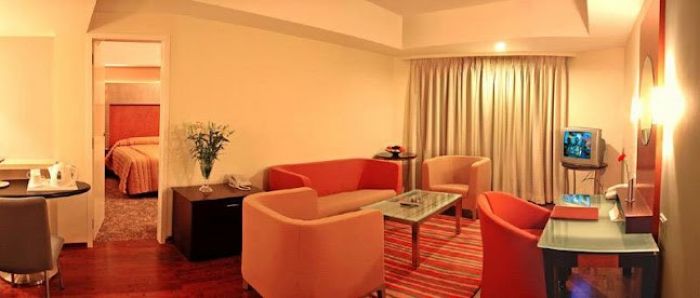 Golconda hotel of Hyderabad is a four star luxury hotel located in the centre place of city. It is well decorated according to luxury choice of guests. Hotel offers good accommodation for all its business and leisure travelers. Hyderabad is a prominent tourist attraction place n India, and this luxury hotel offers all comfort and luxury to its entire guests coming here to stay and enjoy Hyderabad.
Accommodation: this four star hotel in Hyderabad profoundly offers well decorated luxury guest rooms. Rooms and suites of this hotel is really a good one for all luxury seekers. Rooms and suites are categorized in different categories according to comfort and luxury. Tariffs of each category is quite different from another one. These rooms and suites carry all modern and luxury amenities. These are as:-
·        Premium room
·        Club room
·        Premium suite
·        Paigah suite
·        Nizam suite
Dining and Entertainment: A fine restaurant providing multi cuisine dishes and special cuisine of Hyderabad are available here. Bar of this hotel has a wide collection of different brands of liquors and other alcoholic beverages. Restaurants and bar offered are named as:-
·        Jewel of Nizam
·        Melange
·        Zanzi bar
·        Upper deck
Business meetings and events: Golconda hotel is best venue for business meetings, conferences and many other social events. All events are planned by a professional planner with all amenities. Banquet halls, meeting room, conference halls and palace for social events are as:-
·        Mayfair
·        Zodiac
·        Ebony
·        Ivory
·        Meadows
·        Board room
Activities: Spa facility is available with other health club, swimming pool and many more. a cooking with master chef is also done here to enjoy stay and as recreation.
Facilities: facilities and amenities provided in hotel are:-
·        Voice mail
·        Electronic room keys
·        Family rooms
·        Business centre
·        Wake up service
Local attractions: Local attractions of Pearl City nearby this hotel are:-
·        Birla Venkateshwara temple
·        State Museum
·        Lal Bahadur Shashtri stadium
·        Qutab Sahi tomb
Osmania university
Address: The Golconda Hotel Hyderabad
              10-1-124,
               Masab tank,
               Hyderabad, India.