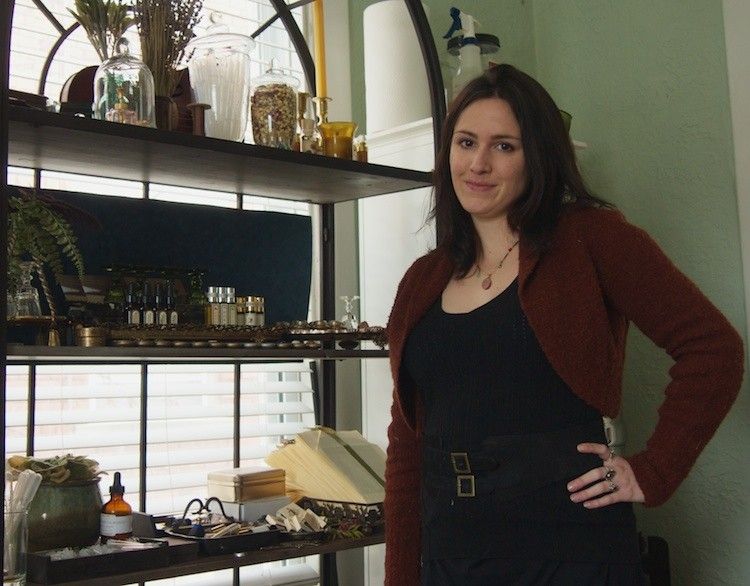 Columbia Hillen
From electronic art aka experimental video and sound to perfume making may seem like a big leap, but for Kansas Citian Jill McKeever they are both similar - in many senses.
"Creating perfumes is a bit like creating music," said the pretty, petite 29-year-old founder of 'For Strange Women' (http://www.forstrangewomen.com/). "They're both about attuning one's senses. I simply moved from the auditory and visual to the olfactory."
In pursuit of her craft, Jill tries to create perfumes that reflect specific memories and the feelings, nostalgic or otherwise, associated with them. One of her perfumes, for example, 'Winter Kitty,' composed of vetiver, Douglas fir and mint and the most popular of her female clients, emerged from the smell of her cat, the fireplace with snowflakes outside, and the idea of coming in from the cold to the protective warmth. Or 'Violin in the Attic,' a fragrance based on resins and wood.
"The brain stores memories and these can create concepts upon which smells emanate," she explains, sitting in a back room of a house in midtown Kansas City "I don't mean abstract concepts, but specific ones, like my experiences on a recent visit to Ireland and a perfume oil I developed that re-awakened the images of old stone, moss and ivy."
Jill is keen to keep her perfumes as natural as possible so she uses a liquid wax base, not alcohol. For solid perfumes, she uses bees' wax. She also takes great care in packaging her products. "I like them to be very natural, very tactile, using letterpress and organic or recyclable materials not plastic, biodegradable containers, " she says. "The visual appeal is very important in reflecting what the fragrance is."
Jill has created nine liquid perfumes, seven solid ones and seven single note ones, both for men and women, with intriguing names such as 'Decadence & Debauchery,' 'Horse,' 'Sand Dollar' and 'Coyote.' "Some of my fragrances are unisex as the line between men and women is more blurred now. Anyway, it's not so much gender differentiation but about body chemistry," she said, adding that natural perfumes are much different to wear than the usual commercial ones for their essences meld with your body chemistry and stay close to the skin. 
In marketing her products, which include lip balms and gift sets such as the 'Lunar Amulet' featuring a series of twelve artisan perfumes to welcome each new moon, Jill has developed a strong online presence. "In today's competitive marketplace, you need to stand out," she added. "That's why I chose the specific name of my company as I did and why I take great care in the design and visuals on my website. Her products are marketed also on Etsy.com. She also presents her work at the Renegade Craft Show. She was also featured in The Oprah Magazine in 2011.
Jill also uses specially made jewelry such as lockets to highlight her perfumes. One fragrance 'Black Forest' is presented in 'black forest' amulets made by Scarlett Garnett Jewelry (http://scarlettgarnet.myshopify.com), and was launched last year in Kansas City on the occasion of the Equinox.  
Columbia Hillen
Columbia Hillen
Columbia Hillen