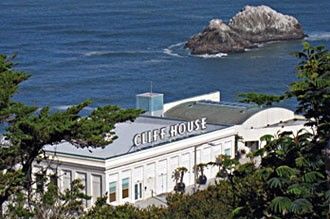 sanfrancisco.com
Do you love dining with a view? How about a restaurant that offers organic produce, locally and sustainably harvested ingredients, and the freshest, highest quality seafood. The Cliff House restaurant in San Francisco is the place to visit. This Bistro offers an extensive menu that ranges from breakfast to dinner. If your a wine lover there is quite the selection of wines to choose from to compliment your meal.
The casual "Bistro" Restaurant is located on the main level. Their menu ranges from classic San Francisco breakfast, lunch and dinner to a fabulous dessert menu. For your fine dining pleasure try "Sutro's" on the lower level. The views from here are stunning from every angle. Take in views of Seal Rocks, the Marin coastline, the Sutro Bath ruins, the entry to the Golden Gate, and of course the Pacific Ocean.
The Terrace room plays host to their popular San Francisco Champagne Brunch Buffet on Sundays. Enjoy the soothing sounds of a harp playing in the background while you enjoy the afternoon. The sunsets in the evening are stunning as you watch boats fade into the distance. Choose from such items as, salmon, steak, variety of pastas, cheeses, fruits, and an abundant choice of breakfast items prepared to your fancy. If you still have a little room left after all that, try their fabulous dessert items!
You may also like:
sanfrancisco.com