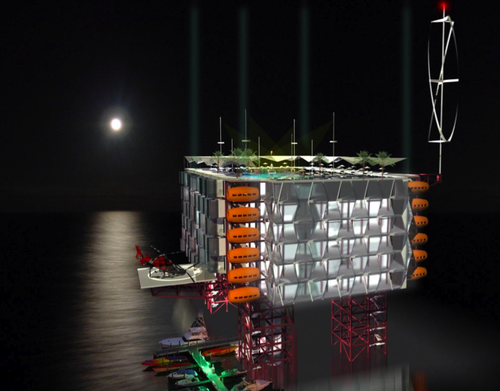 It seems that even though there are many abandoned oil rigs out there, they will not just be sunk in the ocean or something similar, because there is a far greater plan that someone has with them. Blowing these rigs up would also not be an option, because this will cost millions of dollars and on top of that, the explosions will also kill marine life. The solution though for the over 4000 decommissioned oil rigs located in the Gulf of Mexico is to have them turned into luxury hotels. It seems that even though there will be no more oil rigs jobs for these platforms, they will serve a higher and greater purpose hopefully in the near future.

According to info from BldgBlog, there are over four thousand oil rigs in the Gulf of Mexico and in the next century all of them will be decommissioned. Morris Architects decided that it would be more profitable and a far better idea to have them turned into places where people can come to relax, enjoy the peacefulness of the sea and also be surrounded by nothing but deep, blue water and the sky. This is a project that has been dubbed by many to be an American Dubai-esque project, because not only of the scale, but also goal.

Currently the only method that companies would use in order to get rid of these oil rigs is to have them blown up which is very expensive and will also damage the aquatic life in the process. Each oil deck is around twenty thousand square feet which means that in total, eliminating all of them will create eighty million square feet of usable space. If there is a reason to why this proposal is considered, that is because it's cheaper and it will create good business and a massive cash flow after the project will finally be completed. The rooms will be shipped on big tankers and are installed by sliding open and stacking, just like people have seen in movies like Transformers.

The idea of turning these platforms into luxury hotels is an idea that it's in itself extraordinary and Morris Architects is proud of the challenge that lies ahead. It's also a revolutionary event to take four thousand oil rigs jobs platforms and turn them into hotels. It seems that this news has gotten a lot of momentum on the internet and there are more and more people who have already started talking about booking a room at one of these hotels.

Even though the project hasn't even started, it has drawn the interest of many Americans and people outside the USA. It's nevertheless something that has not been attempted before and because it's also going to be done at such a massive scale, it directly grapples people's attention.

It seems that such a project will take a long time to reach its one hundred percent completion rate, but it's not an intimidating factor for people who want to book a room or two in one of these hotels. After all, it doesn't take a century to build a single hotel so that people can finally see how it feels to book in at such a unique place!
This researchwas madeand articlewritten byMayaon behalfoWork on the rigs,a wellknown websitewherepeople canfind outeverything thatwantedto know aboutoil rigsjobs andhow to starta career in drilling business. For more information visit their website here: http://workontherigs.com