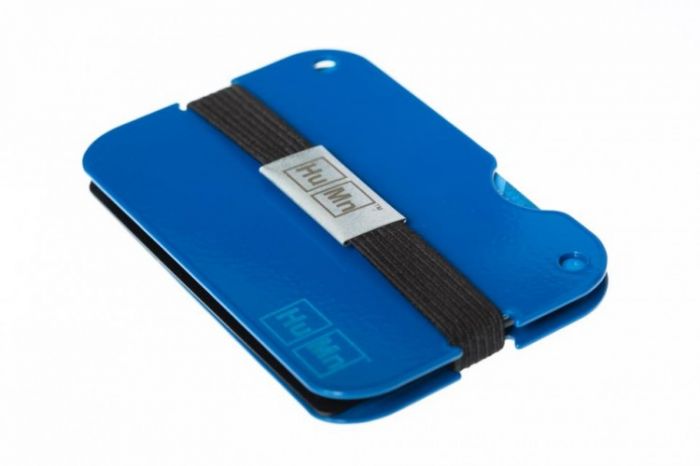 Hu Mn Wallet
Looking for some gift ideas for him this season? Here are a few of our top picks for fun:
To get him better organized, be sure to check out the Hu Mn mini aluminum wallet. It's so easy to use, just put both of your thumbs on top of the table and pull the wallet open. This compact wallet is great for people who love to travel as it can be used to hold everything from cash to credit cards and business cards, all in a sleek lightweight design.
There's nothing worse than a great fitting shirt with a collar that doesn't stay in place. Introducing Swiss Stays, the high end collar stays that will keep them in great shape for as long as you wear the shirt. He will love these as they can fold out into four different sizes and are available in PVC plastic, sterling silver, stainless steel and brass his many unique styles.
Tired of going to the gym and taking up your entire gym bag with just your sneakers? Well, the folks at Klitch have the perfect solution for you – a footwear clip that clicks on quickly and easily to the outside of your bag to free up more space inside. Now your bag will never smell like dirty gym shoes. Sorry, we can't help you with the socks.
Ever wish you could just go somewhere, sometime, someplace where no one knows you? The folks at Beardski have created a new ski mask with you in mind complete with faux hair that allows you to go incognito on the slopes with its full bearded mask that covers the ears, face and neck. Not only is it fun but it is also lined with neoprene and woven thermal fleece so it is designed to keep you warm while completely disguising you.
With St. Patrick's Day just around the corner, don't miss the Dropkick Murphys' latest album Signed and Sealed in Blood. Everything on this album seems to take it up a notch from the vocals to the guitars. Every Bruins fan especially will love the new song "The boys are back and they're looking for trouble."
Speaking of St. Patty's Day, we all know that special date, especially in Boston, is synonymous with great beer. Not sure about you but we are ready for spring and Samuel Adams has the perfect solution – Alpine Spring, a light citrusy beer that goes well with just about everything. If citrusy beer isn't his thing, stick to the basics with the Boston Lager and pair it up with TCHO 70 percent dark chocolate. The combination brings out the rich malty flavor.
Swiss Stays
Klitch
Beardski
Dropkick Murphys
Sam Adams