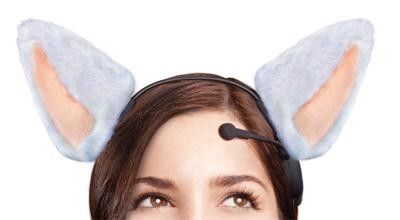 Necomimi
You're smart and now you want to show off just how good your brain really works. Now is your chance. Try on a pair of Necomimi brainwave cat ears. The headset picks up on your moods and thoughts as the electrical impulses from your brain are read by an electrical sensor on your forehead. The ears will actually move, wiggle and droop down according to your mood. For more information, visit necomimi.com.
Getting a group together over the holidays? Then add some fun to the mix with the Battle of the Sexes game. We all know that men and women are different in so many ways but now is your chance to prove that you actually know about the opposite sex. The game challenges your knowledge through gender-specific trivia questions on things you should know, including pictures with questions and lists of what your gender likes but includes an item that doesn't fit. For more information, visit http://www.battleofthesexes.com.
You love cake but every time you bake one, it seems like you waste half of it, which is why the folks at Babycakes have created a cake pop maker with folks like you in mind. Up to 12 perfectly round cake treats can be made in just minutes with the new flip-over cake pop maker. Simply mix up the batter according to the traditional cake recipe and pour the batter into the batter bottle, which allows you to easily dispense into the unit. After just a few minutes, rotate the handle and wait for up to four minutes total cooking time. The result? A perfectly browned cake pop. Place them in the cooling stand and wait until they have cooled in entirety before inserting the sticks and decorating with your favorite frosting and toppings. For more information, visit http://thebabycakesshop.com/.
You love playing solitaire but your tastes have emerged to building things. Now is your chance to do both with local Santa Fe artist and Guinness World Record Holder Cardstacker Bryan Berg's new toy known as Cardstackers. The box comes with 826 cards specifically designed to create houses of cards on a large scale. Think Empire State Building or an Egyptian pyramid. Don't worry, there is a step-by-step instruction booklet included so you aren't on your own unless you prefer to run with your imagination. For more information, visit www.cardstacker.com.
You love your dog so much you can't stand to be away from him while you are at work. Now you can have a reminder of him every "time" you look at your watch. Meet Instawatch, a cool new way to have your favorite photo transformed onto a colorful watch. Start with an Instagram account or you can simply upload an image from your computer. Now choose from 14 different watch bands to match your personalized style. Within just a few days, the watch will be delivered directly to your house. Doesn't get much easier than this. For more information, visit http://instawatch.may28th.me/.
Speaking of animals, for the bird lover on your holiday list, be sure to check out Wingscapes' AutoFeeder. This is not your typical feeder that dispenses seed that ends up all over the ground. The high quality AutoFeeder, which holds up to a gallon of seed, actually allows you to determine how much seed to offer and when. There is a programmable timer for the AA-battery operated feeder that allows you to set up to four of the best times each day to dispense as much as you want (up to 20 seconds). The best part is the batteries only need to be changed out once a year. You can set the squirrel-proof unit for all morning operation if that's when birds seem to most visit or schedule it for intervals throughout the day. For more information, visit www.wingscapes.com.
Battle of the Sexes
Cardstacker
Instawatch
Wingscapes
Babycakes