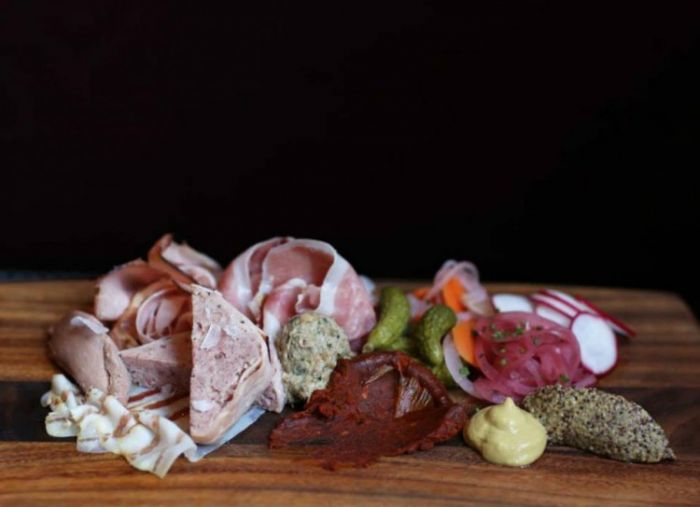 Gaslight
Sometimes in life you just happen to find a hidden gem of a restaurant that you don't want to tell too many people about, which is just what happened to us when we discovered Gaslight Brasserie du Coin (translated brasserie on the corner) a few weeks ago. Step into the South End's sexy French restaurant and pass by the red curtains to the hostess stand where a friendly greeter will show you to your table. The intimate restaurant is beautifully decorated from the hand crafted Parisian zinc bar, reclaimed wood floors and mosaic tiles to the beamed wood ceilings, stained walls and antique mirrors.
On an early Friday night, the bar scene was just getting started and for good reason. The kitchen here is headed up by Chef de Cuisine Michael Zentner, who churns out hearty appetizers at the bar (think pork sausage fondue with melted fontina) to an after-work crowd. The dimly lit bar area opens to a spacious main dining room with bottles lining the walls. There is an impressive selection of draft beers here as well as scotch, whiskey, cognacs and bourbon. Gaslight also offers an all-French wine list with over 20 wines by the glass, ½ carafe and carafe with an additional 60 selections available from its reserve wine list.
We got started with a glass of Brooklyn Brown and a Harpoon 100 Barrel Series. Our server was very knowledgeable about French fare discussing the evening's special of sea scallops and suggesting we get started with a sampling of charcuterie. A massive board filled with speck, prosciutto, pickled onions, carrots, cornichons and a variety of cheeses arrived along with an addicting loaf of freshly cooked warm bread wrapped in a paper bag.
For main events, we took our server's advice and went with the day's special -- sea scallops with Brussels sprouts, black trumpets and vanilla bean aigre doux. The bar steak is one of the best values in Boston. For under $25, a tender generous cut arrived cooked to a juicy medium rare perfection topped with caramelized shallots, cognac cream sauce and a side of crisply golden frites. Be sure to save room for the decadently rich chocolate filled beignets with fresh crème anglaise.
Gaslight is part of The Aquitaine Group's collection of restaurants, which also include Cinquecento, Metropolis, Union, and, of course, Aquitaine. What makes Gaslight also stand out from other nearby restaurants is its free parking every night in the adjacent lot. Doesn't get much better than this.
Gaslight is located at 560 Harrison Avenue in Boston. For more information, call (617) 422-0224 or visit them online at www.gaslight560.com.
Gaslight
Gaslight
Gaslight