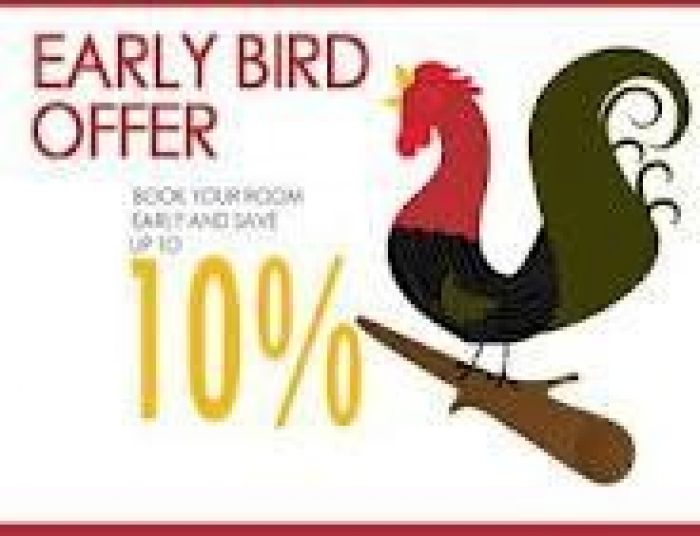 Aug 11, 2012 Ahmedabad, Gujarat – Attention for International as well as domestic tourist to reap the benefits of Cambay hotels and resorts early bird promotion offers by booking any of the cambay hotels and resort before 10 days in advance and save 10% to relax your pocket. This early bird offer is available exclusively on their hotel reservation page at http://www.thecambay.com and really helpful for foreign tourist. Cambay hotels and resorts most welcome their guests by providing best hospitality services at most affordable price. Tourist and travelers can enjoy their free time in luxurious hotels and resorts by booking cambay hotels and resorts before 10 days of their arrivals and get benefit of this offer by saving 10% than regular hotel booking rate. All guests getting same benefits from this early bird offer but they must reserve their desired cambay hotels before 10 days in advance.
In this early bird offers guest will get all luxurious facilities like daily delicious buffet breakfast, daily news paper in your room, access of internet and free access of hotels fitness centre. Cambay hotels and resorts providing great facility at pool side grill to our guest to swim in the pool. Cambay hotels and resorts have also spa facility in every hotels and resorts. You can take benefits of all these facilities or some facilities according to offer packages terms and conditions. This promo offer is only available for guests who book Cambay Hotel 10 days in advance. For example, if a gust wants to book cambay rooms for August 1 to 3, 2012 then he or she should reserve it by July 20 or earlier. With this Advance booking you will easily save 10% than normal hotel booking charges.
To take advantage of this exciting Early Bird Offer guest first needs to visit cambay hotel website at www.thecambay.com and select your travel destiny from the right side of the home page under reservation menu. You need to select your arrival and departure dates then click on check availability button. On this page you will find best price available from all our best offers generated by cambay hotels hotel booking software. To find Early Bird offer you must click onto see more offers button and Early Bird promo page will appear. By checking all available terms and condition you can proceed for final step and reserve you hotel rooms. This offer only applicable if you book your Cambay Hotel room 10 days in advance.
On this early bird promo offer page all facilities provided by cambay hotels and resorts are described so guests can check before booking hotels with this early bird offer. If Visitors have any requirement about extra bed then they can also do this at nominal charge. If guest have spouse or child then they must check availability of room with single or double occupancy. Travelers come with spouse must read supplementary services provided with all brief description about room size and room amenities so they can enjoy their loving time at romantic mood. Visitors also find hotel address and information about geographic area of selected hotel online under about the property button. Visitors must read our terms and condition as well as cancellation policy as shown on early bird offer page before book your hotel in 10 days advance.
Cambay hotels and resorts not only providing information in English language but to make hotel booking easy for foreign travelers Cambay hotels and resorts offers online hotel booking in different language as well as different currencies options. Foreign Guest can select their native language and their own currency from the list and can make online payment in just two minutes. It's an easily available built in option. Cambay Hotel booking system provides hotels and resorts booking in 17 different language and 16 different currencies from which you can easily choose best language and best currency option from the drop-down menu located under the right side of the banner.
Media Contact
Cambay Hotels
E mail: salesinfo@thecambay.com
Phone Number:9377954166
Website: http://www.thecambay.com