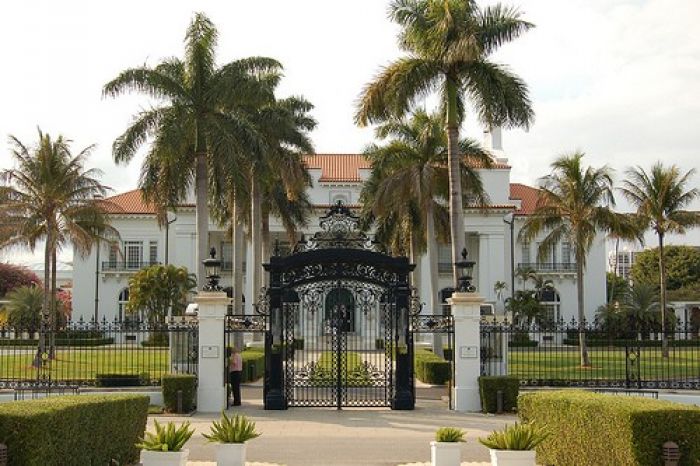 Jennifer Garcia-Alonso
You're seated in a Beaux Arts pavilion, one of the grand public rooms in a sprawling, magnificent mansion. All around you are lavish spreads of delicacies that you nibble off bone china while sipping a refined cup of tea and gazing out at the views of Lake Worth. Have you taken a time machine to the Gilded Age? Nope, you've landed at the Flagler Museum.
Housed in Whitehall–the 75-room, 60,000-square-foot estate of Palm Beach founder Henry Flagler–the Flagler Museum offers an intimate peek into the history of the town and an era in which decadence reigned supreme. The "Gilded Age-style" lunches, held during the high season (Thanksgiving to Easter), recreate the lifestyle of culture and leisure esteemed by the titans of industry at the turn of the 20th century.
Flagler was an oil magnate who invested his considerable fortune into building the railroad system in eastern Florida and paving the way for the development of Palm Beach and Miami as resort destinations in the process. He and his cohort of wealthy capitalists took to spending the winters in the Sunshine State and thus established "The Season." But their collective idea of "vacation home" was hardly a little beach cottage–the finest of architects trained in the grand traditions of Europe were commissioned to build veritable palaces.
Flagler's manse is one of the finest examples of Gilded Age excess in America (it's a National Historic Landmark). Whether you opt for the self-guided audio tour or a real live docent (free tours leave from the porch several times daily), you can tour Whitehall's grand public rooms, guestrooms, servants' quarters, pantry and kitchen, and former offices for Mr. Flagler and his secretary for 18 USD (adult ticket). Along the way, you'll learn about local history and the social norms of Flagler's period. (A juicy tidbit: Flagler built Whitehall in 1902 for his third wife who was [scandalously] forty years younger than him).
Aside from just being an eye-popping piece of property, Whitehall is an engaging museum which documents the colorful life of Flagler, the elite Palm Beach "business" class, and their collective impact on Florida with rotating exhibitions during "The Season." There's also a lively schedule of cultural events from lecture and music series to holiday celebrations such as the annual Easter Egg hunt.
During the off-season, there are fewer exhibits open and fewer docent-led tours (because many of the volunteer docents are out of town). But a visit here still makes a fun rainy day activity (although the grounds are most lovely when it's nice out). At any time of year, the gift shop is worth a browse, stocked as it is with coffee table books on Palm Beach's history and architecture.
Definitely don't miss taking a peek into Flagler's private railway car, which has been restored and is on view at the rear of the mansion. It's another time-machine portal that whisks you back to the fashionable era of rail travel. In fact, it's so plush that you might wonder why Flagler bothered with the whole mansion thing and didn't just bunk down in there.
Rachel Levin contributed to this story.