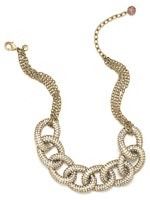 Courtesy LOFT

This week marks the kick-off of Breast Cancer Awareness Month, and every year it seems that more companies, organizations and individuals are getting involved to do their part. Truly amazing, all the thousands who are all coming together to save second base.

Well if you are fans of E! you are aware that the battle is one that host and new mom Giuliana Rancic is all too familiar with. Rancic was diagnosed in October of last year, and has since overcome the disease and is putting her efforts towards helping women who have also had the same prognosis.

To increase exposure for the cause Rancic recently teamed up with LOFT for a "Live in Pink" campaign, and even designed a necklace of her own. Check out the full story, the LOFT campaign and the new necklace at People.com.