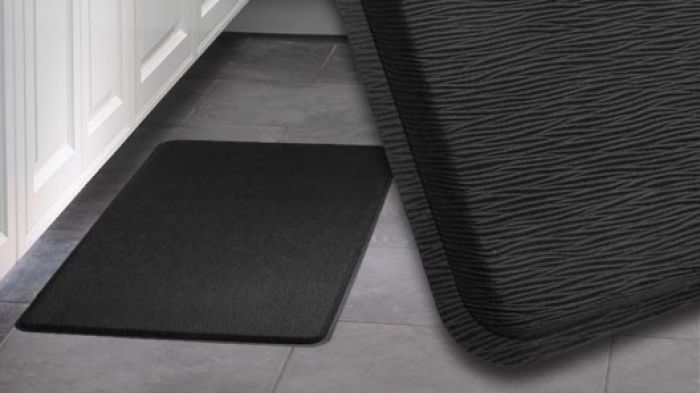 GelPro
After a long day at the office, quite possibly the last thing you want to do is spend more laboring hours in front of a stove when you get home. While we can't send you a personal chef, we can suggest a way to make at-home cooking not only more enjoyable but comfortable as well.
How, you ask? MeetGelPro, makers ofstylish comfort floor mats that reduce the discomfort of standing on hard flooring when cooking or doing household chores. We have all tirelessly stood over a cooktop that requires lots of attention but with the simple placement of one of these mats in the kitchen, the focus will quickly be taken off your sore and tired feet and placed onto the dish you are preparing.
We love the GelPro Plush Mat: Willow Jet (black). This line is their most luxurious line of mats offering premium comfort. The modern design of the 20" x 36" mat was the perfect addition to our contemporary style kitchen with its strikingly beautiful ridges that complement its deep black color.
Spills can easily be cleaned off the mat by simply wiping it down with a damp cloth. You also won't have to worry about slipping off the mat or tripping over it as there is a high traction backing for additional protection and safety.
The GelPro Plush line is ideal for anyone suffering from scoliosis or other back issues as well as foot and leg pain or arthritis. The gel material is further reinforced with an added layer of foam that gives the mat additional comfort. We love this stain resistant mat because it is 50 percent thicker than the standard GelPro mats making it the best choice for the most comfort during prolonged periods of standing.
GelPro Plush mats come in 11 different styles, 45 colors and four sizes to choose from. For more information, visit www.gelpro.com.