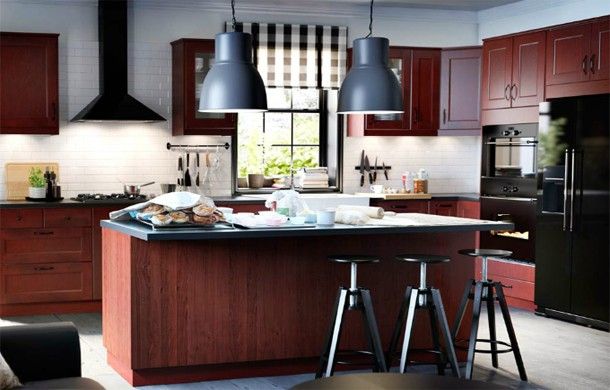 Ikea
Your kitchen is in dire need of a facelift, so what better way to quickly and easily give it an updated more modern look than by replacing your cabinets? If you are unsure where or how to get started in the remodeling process, don't worry; we were just like you when we started out but the whole process doesn't have to be as scary as it may seem.
First, start off by determining the style you are looking to create – modern, contemporary, traditional, etc. We were looking to upgrade 12 traditional oak cabinets to a more contemporary style and by a simple search online, we came upon the Ikea site, which not only showed us how to measure and lay it all out in 3D but choose the cabinets that were best for us. Ikea is most known for its affordability but the brand also appeals to the luxury market for those looking to save some money while not sacrificing quality.
We selected the AKURUM Abstrakt gray cabinets for their durability of 3/4'' board with melamine covering for a hard-wearing, moisture-proof and scratch-resistant easy-to-clean finish. The best part about these cabinets is that they come in a variety of shapes, sizes, frames and front finishes so you can pick and choose what works best for you.
If you have a smaller kitchen, you may prefer the longer skinny cabinets or perhaps you want just a few larger ones instead. We love the special corner units with pull-out shelves that utilize the most space in smaller kitchens while keeping canned foods organized.
Keep in mind base cabinets should be selected to contain pots, pans, small electronic gadgets and utensils. To complement the cabinets once everything is installed, you may look to add wire baskets and adjustable shelves like we did to maximize storage and organization.
We upgraded our traditional wood cabinets to glass door wall cabinets and selected a horizontal wall cabinet with gentle closing door to further modernize our space. The wall cabinets come in a variety of shapes and sizes and some special fit styles but they all offer substantial room for storage. To further enhance our look, we added a few high cabinets with extending drawers to the walls to maximize storage as well. The pull-out drawers are such a great feature allowing you to not only see everything but have it all within easy accessible reach.
Measuring your cabinets is one of the most important aspects of upgrading the kitchen. One inch off can make all the difference in the world when it comes time to install. If you are unsure how to accurately measure the space, Ikea's design team will come out to your house to provide a Measurement Service (there is no charge if you decide to purchase your kitchen with them).
Once you have the cabinets in place, you can further complement the kitchen by adding lighting, backsplashes and flooring not to mention accessories. For more information on how to get started laying out your new kitchen, visit www.ikea.com.
Ikea
Ikea