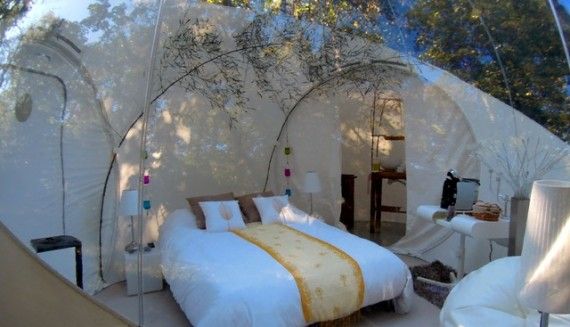 Family squished into a tent with rocks sticking into their backs all night long, waking up stiff and sore and ready to do it again the next night. These days are long gone for those of us who have taken on a new form of camping known as glamping. Glamping is just what it sounds like... glamorous camping. It is camping without the annoyances of bugs, wild animals, sudden storms, leaking tents, smelly sleeping bags and questionable food. Glamping allows for all of the exposure to the great outdoors but the amenities at the sites are remarkably unbelievable.
Designer tents are rigged with electrical capabilities allowing appliances, reading lamps and even climate control. Even sleeping on the ground is a thing of the past with full size air mattresses and sometimes regular spring mattresses being supplied for glampers. For those of us who are used to life's luxuries, glamping takes most to all of the discomfort out of camping, depending on the trip and group that you sign up for.
One type of glamping trip is called Camping in a Bubble, which includes camping in a bubble tent designed to put you right in the center of nature, but allows for all the comforts of a luxury home. The amenities include storage, lighting and even add ons for children's bedrooms and bathrooms. The bubble is completely clear and allows you to view all that nature has to offer; the stars twinkling throughout the night, the sun rising, the wildlife crossing your campground. Inside though, you will be as comfortable as if you were staying in a four star hotel.
This summer when planning your getaway, don't rule out camping as you might have in years past. Consider glamping and rid yourself of the discomfort of camping while enjoying all of the peace and beauty which nature has to offer.