Go2Practice
Heading out of town but still want to maintain your summer bod? In Phoenix on a quick work trip? Need a "surprise" workout while visiting your friend on the Upper East Side? Meet your new BFF... Practice, a genius new site that aggregates all fitness options in your desired area to create a detailed directory of facilities and classes!
Here's exactly how it works: Easily search the wide range of fitness facilities near you and define your search by fitness preferences and gym amenities (boxing, pools, cafe, etc.) Choose what you want, when you want - at the best rate with simple online booking and purchasing. Not only does Practice benefit consumers, it also allows businesses to market their target audience.
We were lucky enough to chat with Joanna Stahl, CEO and Founder of Go2Practice to discuss the awesome new site and why you'll love using it! Read on...
Why did you start Practice?
"Fitness is my passion and I recognized the need for gym access with a seamless option to a get in a workout anywhere at any time. A close friend of mine was coming to NYC from Philly on a business trip and asked me to recommend a 9 am Yoga option one day. She was staying 3 blocks from my apartment, which has been my neighborhood for 18 years and where I primarily teach fitness classes. Even with that baseline, it took me over an hour to research, click around, calls front desks, and put an email list together of her options. A few years later, the fitness industry started shifting from year-round memberships to offering monthly options. The next iteration was "no commitments" with the option to pay for the day/class. I was now able to find day passes as I traveled which was amazing, yet still cumbersome to navigate, but progress was evolving! The extra inventory membership models launched, creating negative energy relating to excess capacity, perceived values of assets and the need for new marketing efforts. When brainstorming with a tech startup/fit friend, we questioned why there wasn't a true directory that aggregated and curated everything? That was my "ah ha" moment! I realized I could make the platform come to life from a unique perspective as an industry consultant, background in partnership marketing and an activator in the group fitness scene."
Is Practice available in all 50 states? Where can readers use it?
"Yes, we are starting in the US by aggregating the over 100K fitness options available. Practice is the most complete fitness directory on the web, constantly updating as gyms update their info, allowing transactions, engaging with the site, the data for consumers will enhance as well. The goal is to be able to narrow down exact fitness preferences, serve them up with a click and allow app members to go sweat! Want a kickboxing class with childcare in Austin TX next Tuesday? Looking for a pool with free weights closest to your in-law's home? We got it covered…"
What is the hottest market/area?
"The hottest markets right now are NYC, San Diego and Denver. However, I do expect major shifts in traffic from some early stage traction of consumers and influencers. Consumers today can use Practice as a directory and search tool to start engaging with their favorite studios and gyms, connect their tracking devices, share with friends and more!"
I see you have a fitness background, how did you merge your experience with launching Practice?
"Fitness has always been a passion. I grew up as an athlete, swimming competitively and rowed crew through college. My gym was my go-to spot from high school. Post college I dove into marketing for prenatal women, then tobacco and finally cars, all while teaching group fitness classes "on the side". When I had the opportunity to build a national media company for a fitness brand, I realized my passion for fitness is my strongest motivation. Building Life Time Fitness's media company was amazing, but then I shifted over to Rodale for 24 Hour Fitness, where I worked directly for 24 for years, all while still teaching and growing as an instructor for Crunch and Equinox and watching the industry evolve. Being entrenched in any industry for almost 20 years provides an immeasurable perspective and connection and degrees of separation to so many incredible people who are doing impressive things within the space. It could be a bit NYC centric and something about fitness entrepreneurs in general… it's a sexy industry and it is only evolving for the better."
What fees do consumers pay when using Practice?
"The consumer pays exactly what the gym's price is, there is no fee to use Practice. If the gym does want to offer pricing discounts, or if they have built variable pricing into their systems, or if they want to provide special offers that is directly from the gym to the consumer."
What are your favorite workouts?
"I support anything that gets you moving. Personally, I am a heart rate focused person and wear both a Fitbit and Suunto every time I sweat...so if the "workout" gets my heart pumping, body moving, training effect increasing - I'm in! I teach cycling and boot camp style classes which I've dedicated my efforts to because they are my personal favorites. I love compound movements that are challenging with a flare of efficient creativity. Cycling is low impact, high effort and efficient, plus I like dim lighting and loud music, which makes a great combo to burn it up!"
What is your favorite workout/motivation song at the moment?
"I may be a little late to the game but have JUST turned over from iTunes to Spotify and now publish a new workout playlist from class at least weekly. Follow me Go2Practice, promise there's something for everyone in each playlist and usually gets rave reviews! At the moment, my favorite jam is "Therapy from Armin van Buuren" and pulled back an old remix called "Tell Me You Love Me by Galantis" that is back on my fav list for the day."
Future plans for you/Practice?
"There is so much to accomplish! There will be onboarding of gym partners galore, making it seamlessly easy to share details about their clubs' activities and amenities, equal to a consumer calling the front desk and getting all their questions answered. On the consumer side, the tech is evolving with some sticky features, for example linking fitness influencers sharing their favorite clubs, getting people to think 'Go2Practice' whenever they think "I want to go workout."
For more on Practice, visit www.Go2Practice.com and follow along on Instagram at @Go2Practice_Life!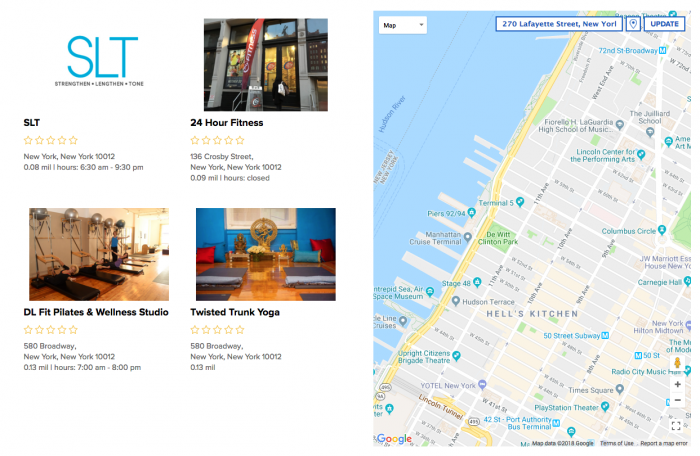 Go2Practice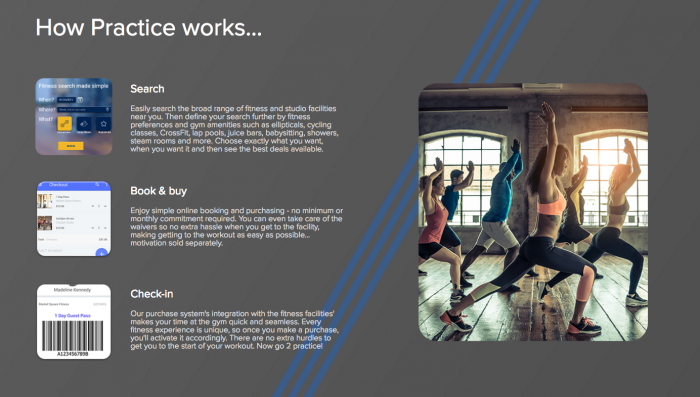 Go2Practice