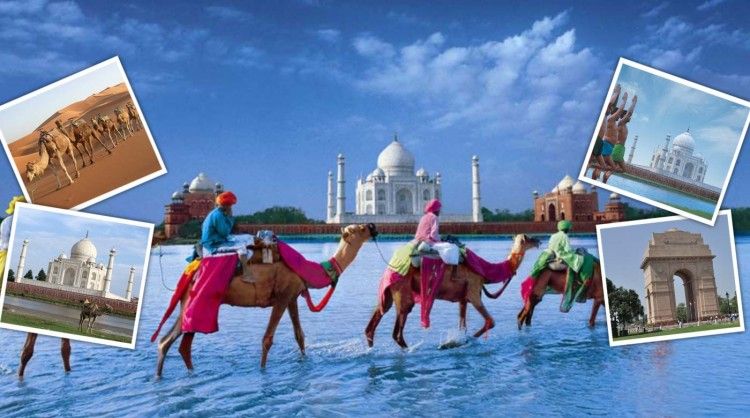 The North Indian tourism serve as a backbone to India's status of being Incredible. The three major cities, Delhi- the Capital city, Agra- the epitome of love and Jaipur- the pink city are an immense means to discover the rich heritage, culture and progress of our country. A special tour known as the Golden Triangle Tour is carried out to explore these magnificent cities. This tour program gives a golden opportunity to the travelers to discover India's Incredibility.
Moreover, a remarkable experience of this tour can be gained by paying a visit to two other enchanting Ajmer and Pushkar. These two cities adds more glitter to the journey, thereby making the holidays an experience for a lifetime.
The splendid tour begins from the national capital, Delhi which is also considered to be the heart of India. Millions of tourists from every nook and corner come to this enchanting landscape to explore its rich cultural heritage and magnificent attractions. Visit India Gate, Qutub Minar, Humayun Tomb, Red Fort, Jama Masjid and more.
The next city is Agra also known as the Taj City. This historic monument gains the status of being the Seven Wonders of the World and it is also referred to be the epitome of eternal love. Built by great Mughal emperor Shahjahan in the memory of his beloved queen, Mumtaz, this mausoleum conveys that love never dies. Visit other attractions such as Agra Fort, Fatehpur Sikri, Itmad-Ud-Daula and Chini ka Rauza.
Jaipur, the third traveled city is an essential part of the Golden Triangle tour. Here visit the historical monuments comprising Hawa Mahal, City Palace, Jal Mahal, Jantar Mantar, Amber Fort, Jaigarh Fort and more.
Ajmer, the holy city of Rajasthan is worth to visit. This holy place is representative of Sufi culture and is considered to be a renowned pilgrimage site for Hindus. Showcasing the glory of the past, there are many forts and monuments in the city that are worth visiting. Some of the major attractions of the place are Dargah Sharif, Taragarh Fort, Ana Sagra Lake, Mayo College, Shahjahan's Mosque, Adhai-Din-ka-Jhonpra and many more.
The religious land of Pushkar is just 18 kms from Ajmer. This holy spot holds a great religious significance and the lively Pushkar fair held annually attracts a millions of tourists. Pushkar is also famous for the only Brahma Temple, exclusively dedicated to Lord Brahma. The four headed statue of Lord Brahma nestled near the Pushkar Lake is a big attraction of the place. Visit Pushkar and be a blessed individual.
Golden triangle India with Ajmer & Pushkar Tour leaves lifelong imprints on the visitors mind.



New Delhi Red Fort
Agra Fort Jahangiri Mahal
Jal Mahal in Jaipur
Ajmer Dargah Sharif
Pushkar Temple