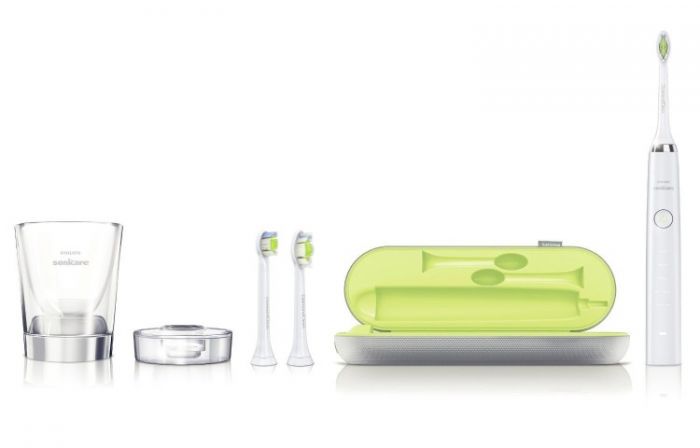 Philips
Healthier teeth start with good oral care. Just ask the folks at Philips, makers of the Sonicare electric toothbrush.
We decided to put them to the cleaning test with their DiamondClean model to see just how our teeth felt after one cleaning.
For starters, the sleek modern design will allow you to leave it out on the counter in full display. The unit comes with two different brush heads and five cleaning modes. After just two full weeks of use, your teeth will appear noticeably whiter and any gum issues will improve. What makes this model so unique is it comes with a USB charging case so you can take it with you while you are on the go traveling. Simply plug it into your laptop or an outlet and it will charge directly in the case.
The electric toothbrush will remove up to seven times more plaque than a manual toothbrush and can even get in those hard-to-reach places that a manual toothbrush cannot. We love that it can whiten teeth near twice more than a regular toothbrush. Its unique cleaning action forces water between the teeth for an intense yet gentle cleaning.
This luxe electric toothbrush's whitening brush head is diamond shaped and has medium stiffness bristles to clean plaque from teeth.
When you are finished, just place the electric toothbrush in the charger glass to charge. There are five modes, including one for sensitive gums. If you aren't sure just how long to hold the toothbrush in one area, there is a timer that beeps every 30 seconds letting you know you have completed each quadrant of your mouth and need to move onto the next section. The brush will automatically shut off after a full two minutes, which is the professional recommended brushing time.
This just might be the easiest way to get cleaner, healthier teeth.
For more information, visit http://www.usa.philips.com/c-m-pe/toothbrushes/diamondclean/latest#layout=12.subcategory.p-grid.