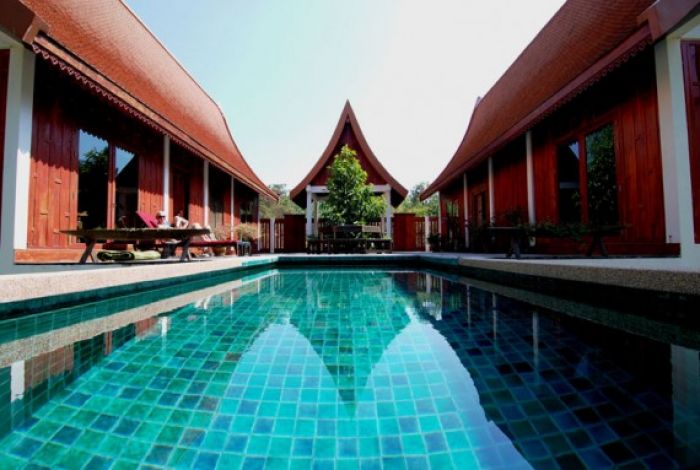 Charles Cone
The northeastern provinces of Thailand remain a secret to the majority of visitors to the kingdom. Known locally as"Isan", the region is Thailand's rice-bowl, and, unaffected by mass tourism, it has retained its authenticity and strong sense of place. Dotted with sites of historical importance, UNESCO World Heritage Sites and places of natural beauty, it has a special appeal to those looking to get off the beaten path on their next holiday in Thailand.
Whilst there has hitherto been only a scant choice of accommodation in Isan, visitors now have the opportunity to stay at Green Gecko, and to experience all the region has to offer. Green Gecko is a traditionally Thai styled holiday villa, set amongst the rice paddies and plantations of Udon Thani province, on extensive grounds.
This tranquil Thai villa reflects traditional Thai architectural traditions, being raised on stilts with a steeply-pitched terracotta tiled roof, and from a distance can be mistaken for a Thai temple.
An impressive wooden entrance staircase leads up through wooden doors to the main hardwood deck, with its loungers, very private saltwater pool and sala (perfect for al-fresco dining), around which the living spaces are centered. The deck boasts bucolic views over the surrounding verdant countryside, and is an excellent place from which to watch the sunset in the evening.
The villa has two bedrooms, each with a teak four poster, king-sized bed and finished in wood and cottons, with en-suite bathrooms. The master bedroom features a delightful shower garden. The villa also offers a living and dining room, highlighted with indigenous antiques, silks and cottons; a fully-equipped kitchen and extensive gardens and orchards.
Despite the traditionally Thai aspect of the property, it also features modern comforts such as full air-conditioning, wireless internet, satellite LCD TV and a high end stereo system with Ipod dock and DVD player.
Green Gecko successfully melds the privacy and space of a vacation rental with genuine Thai hospitality. Guests may enjoy the villa in complete privacy, or allow themselves to be integrated fully into the local ways of life by the local villagers who run the property, and are the best placed to explain time-honoured traditions and details of the local culture, and to accompany visitors to hard-to-find local areas of beauty or historical interest. Get out and about in a samlor, enjoy a boat trip on the dramatic pink lotus lake, try your hand in the paddies, give alms to the monks, learn to cook Thai food, negotiate local markets or visit mudmee cotton and silk-weaving villages nearby… Indulge in a traditional Thai massage, or simply laze away the days under the tropical sun with a good book and a long, cold drink.
Holidays at Green Gecko are fully catered, with deliciously zingy Thai meals prepared for guests throughout their stay, at no additional cost.
Udon Thani has direct flights from Bangkok, Phuket and Chiang Mai, and free transfers are arranged to the villa. For larger groups, their sister property Gecko Villa is a 3 bedroom private pool villa nearby. Both properties are proud to be featured on the Thailand Holiday Villas Guide.
Rates start at approximately US$250 / night including transfers, all meals, drinks, maid service and laundry. The minimum stay is only two nights – making it a good break for those heading on to the border with Laos at Nong Khai on the Mekong river nearby - although we'd recommend considerably longer!
Charles Cone
The pool deck
Charles Cone
Verdant & tranquil
Charles Cone
A teak four poster bed
Charles Cone
The pink lotus lake from Green Gecko's boat