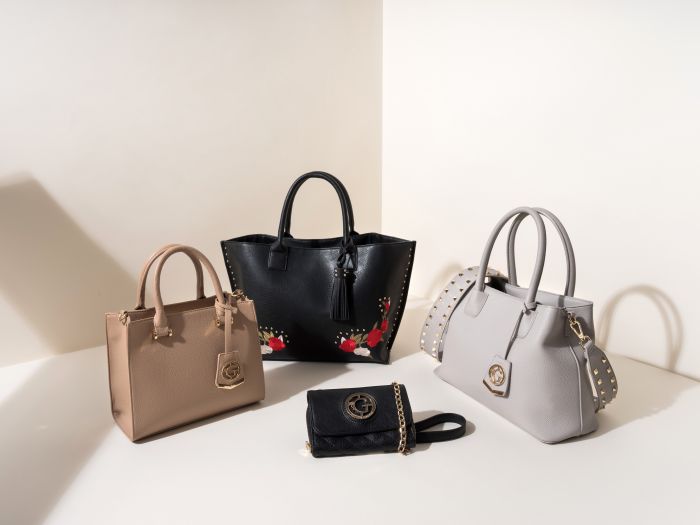 Photo Credit: Gretchen Christine Collection
Gretchen Christine Rossi, Creative Director and fashion maven behind the Gretchen Christine Collection, unveils her long-awaited fall handbag collection. The innovative À la Rentrée collection arrives "at the return" of fall, featuring vegan leather, interchangeable straps and plush details that align with Rossi's mission to provide eco-friendly, accessible and chic sartorial options.
Each bag in Gretchen Christine's newest collection embodies her vision to marry artful design with style and function. Tailor-made for the modern-day fashionista, the À la Rentrée line fits effortlessly into everyday life, while elevating any look for every occasion. Hitting the embroidery trend that has recently seasoned the couture runway, the Jaime Embroidered Convertible Tote goes from day to night when it converts to a small, structured bag. The Kelsey Smartphone Crossbody not only yields a striking quilted design, but is crafted with intention—designed to carry an iPhone 7 Plus along with all your evening essentials. Streamline style comes to life with the Audriana Messenger Bag, versatile enough to take you seamlessly from work to a dinner date—complementary to any ensemble and lined to the nines with a plush microsuede interior. Other bags in the collection feature interchangeable, reversible guitar straps adorned with edgy gold studs, sophisticated floral applique and cosmopolitan snakeskin embellishments to take your look to the next level.
From gold hardware details to accent tassels and classic, elegant construction, Gretchen's purpose for quality design emanates through each element of the À la Rentrée collection. With the supple look and buttery feel of genuine leather, Rossi uses the vegan materials for this collection as a statement for not utilizing animal byproducts—a direct reflection of Gretchen's huge heart for animals and for the environment. Finally, a guilt-free accessory designed with the goal to be eco-friendly, yet still very much on-trend with high fashion, luxury products.
So, which bag is Gretchen's favorite? "I'm a little obsessed with all of them!" admits the accomplished designer and creative director behind the Gretchen Christine brand—a fashion and beauty solutions company recently acquired by Dastmalchi LLC, a vertically integrated company bringing a fresh perspective to everyday fashion and beauty products. Find the bold new À la Rentrée collection and your new favorite fall staple exclusively online at Gretchen Christine.