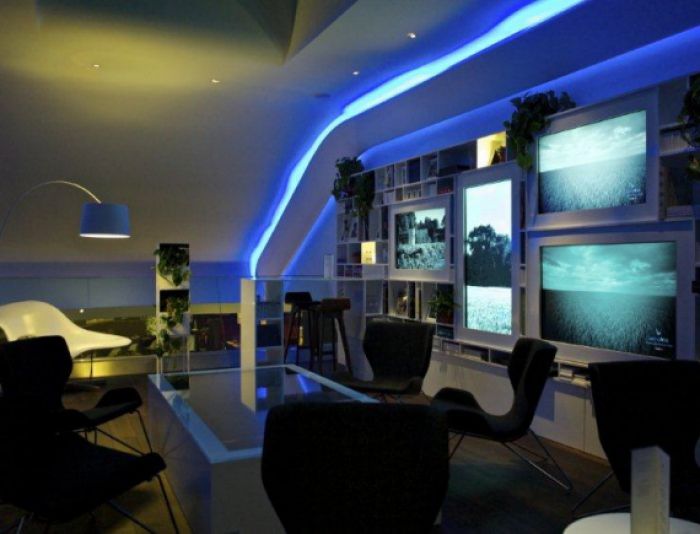 Courtesy Virgin Atlantic
Grey Goose vodka and Virgin Atlantic Airways have announced the opening of the world's best airport bar – the Grey Goose Loft at the Virgin Atlantic Clubhouse at London's Heathrow. The luxurious lounge is located on the upper deck of the Clubhouse and will offer Virgin Atlantic Upper Class passengers a bespoke experience and top drawer service. Upon arriving, each traveler will be presented with a freshly prepared amuse-bouche to whet their appetite. The Loft's team of professional mixologists from some of London's best bars will then set about creating a tailor-made Grey Goose cocktail to suit each guest's own taste preferences.
The Grey Goose Loft is a also celebration of the best in new design with individual items of furniture created by some of Europe's most talented young designers. They include the UK premiere of the Mollis lounge chair by Swedish design duo Jonas Nordgren and Artur Moustafa of RVW. Integrated into the design of the bar itself is a DJ booth where guest DJs will set the mood to accompany the custom cocktails on offer. The concept may eventually be extended to other Virgin Atlantic Clubhouses and even airplanes.
Over the coming months Virgin Atlantic Upper Class passengers can look forward to a series of special events being held in the Grey Goose Loft as Grey Goose celebrates its partnerships with the world's best in art, music, fashion and film. Elsewhere in the Clubhouse passengers can enjoy a stylish haircut at the Bumble and bumble salon; relax in the spa pool or sauna; choose from a range of treatments at the Cowshed Spa; enjoy a game of pool in the Den; or choose from the extensive Brasserie menu.