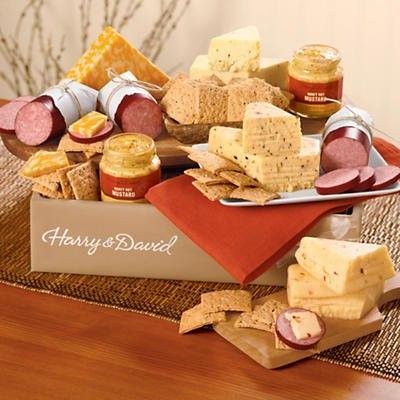 Harry & David
Just in time for the Super Bowl, Harry & David has just introduced its latest offering – theSausage, Cheese and Crackers Gift Box Deluxe.
You know the brand for their chocolates and fresh fruit but if you have never tried their gift boxes filled with delicious snacks, you are in for something special.
Bursting with everything you know and love, theSausage, Cheese and Crackers Gift Box Deluxehas something for every snack lover. Whether you are entertaining or need something to bring over your friend's house as you watch the game this weekend, this box is filled with tasty treats.
Thesausage and cheese gift box has four kinds of Jack cheese, including Garlic Jack and Pepper Jack for those who like a little spice to their cheese. We love the creamy Colby Jack on its own while the Sicilian Jack made with black olives and sun dried tomatoes goes perfectly with the three-seed crackers. Slice up two gourmet summer sausages and the Thuringer sausage and dip it into a side of the honey hot mustard. (These pair up perfectly with a nice cold beer).
Trust us, this gourmet basket is almost too good to share so don't feel badly if you end up keeping it all to yourself.
For more information, visit www.harryanddavid.com.