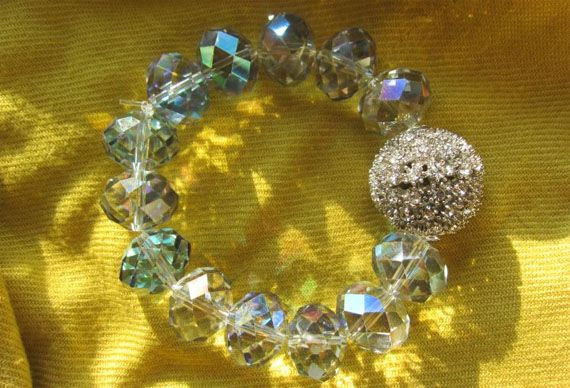 Jillian Canavatchel has a sense of style that can't be learned in fashion school. Her keen style has lead her to design her own accessories line, entitled "Spoiled Wrist". The collection focuses on mixing genuine stones, Murano Glass, Chinese Crystals, Cats Eye, Fresh Water Pearls, Swarovski Crystals and Swarovski Pearls. The bracelets are apiece or two of intricate materials that accentuates a woman's delicate lines with a distinctive flair.
KF: You grew up in New York. How does that influence your designs?
JC:I think growing up in New York City makes me versatile where I like things that are very eye-catching and inexpensive as well as things that are considered extravagant. My line fits whatever my customer has in mind (or their mood) for the present moment. 


KF: How did Spoiled Wrist come about?
JC: Spoiled Wrist came about due to the fact I had previously broke my foot couldn't walk. I needed to be busy so I started making bracelets as a hobby for myself and all my friends. People kept asking about them and were willing to buy them, so a few years later I pursued it and it has since become my passion as well as my career.

KF: What is your favorite accessory?
JC: To be honest I would say my favorite accessory really would be a nice diamond ring, but on the average day to day I would say I like crystal bracelets made up of all kind all stones and crystals all chunked up of all different sizes and colors.

KF: What are your favorite luxury items?
JC: My favorite luxury items would be all accessories…mainly earrings and bracelets… especially bracelets as you always tend to notice someone's wrist whether you are out to dinner or at the nail salon or just passing by on the street. It says a lot about a person's style and characteristics.

KF: What is next on the agenda for Spoiled Wrist?
JC: Next up for Spoiled Wrist is to continue to be consistent with my customers and keep making one-of-a-kind, unique bracelets that let me show my creativity and originality.  I have a few boutique salons that are now selling my bracelets and I would like to continue to grow business-wise.

For more information or to order, please see www.SpoiledWrist.com
Related Topics: jewelry, Accessories, Women Fashion, New York City, Lifestyle news