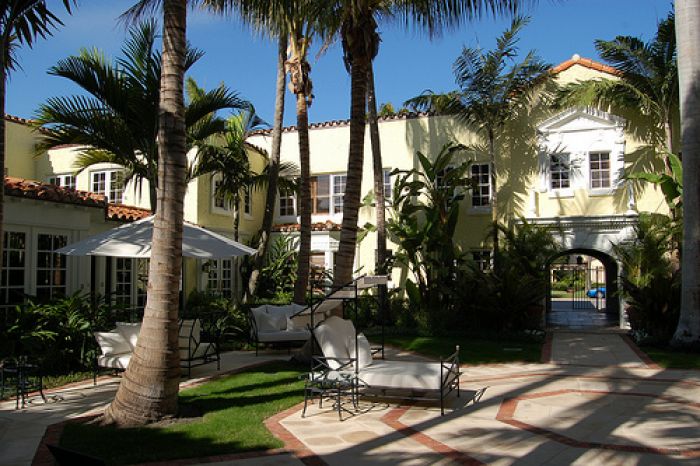 Jennifer Garcia-Alonso
New York and Palm Beach might as well be sister cities–the high-end fashions, socialite-and-starlet crowds, and great beauty expectations of the streets of Manhattan long ago invaded the tropical byways of Palm Beach, a popular beach escape for well-heeled New Yorkers. And if you happen to notice the same trendy haircuts on head-turners in both cities, it's probably not coincidental. As it turns out, the two cities also share a common set of scissors, courtesy of renowned French hair mogul Frédéric Fekkai. Top technicians in the Fekkai regime are known to divide their time between the Palm Beach and New York salons, depending upon "the season."
What does this mean for you? Access to Fekkai's legendary hair and beauty services within spitting distance of the pool. The small Palm Beach outpost, Fekkai's third in his spreading chain, is a zen-like escape just near the pool in the luxurious Brazilian Court Hotel, a boon if you're a hotel guest. Its vicinity to the posh Worth Avenue is not to be overlooked, either, if you're looking for a sceney shopping stretch on which to strut your new 'do.
But location isn't the only draw–the cuts would be worth it even if you had to venture through a sand trap on the golf course to get a spot in a Fekkai chair. Offering everything from devastatingly hip coifs to classic grooms and elegant up-dos, Fekkai's talents cut styles while coaching on personalized looks to fit all face shapes and personal tastes. If you've ever worried about getting your look just right or completely restyling your hair without risking a translation disaster with your stylist, this is the place to come. Skill is never lacking here, and staff are all too eager to please.
Speaking of traveling scissors, Fekkai himself divides his time between salons in New York City and his home in Paris, so it would be rare to spot him at the Palm Beach branch. He's a little too preoccupied with a client list that includes runway models, magazine shoots, and a who's who of prominent celebs (think Renée Zellweger and Kim Basinger). However, if you've got your heart set on the brand's man, you can secure an appointment with him specifically for the modest price of USD 750+ (no doubt you're paying his travel expenses at that rate).
Despite sharing some staff and the Fekkai blessing, there are some noticeable differences between the Palm Beach and New York City salons. We have to admit we found the quality and energy of the NYC locale much more appealing; we liked our cuts better in NYC and found the Palm Beach spot small and just a bit boring in comparison.
Still, it's one of the best hair places Palm Beach has to offer, and there are even massage and skin treatments available (as well as select poolside and in-room services at The Brazilian Court for hotel guests who request them) for those seeking a complete beauty package. If you want to take some of the Fekkai elixir home with you, his full line of products is available for purchase in the salon (we swear by these!). After all, not all of us are headed back to New York.