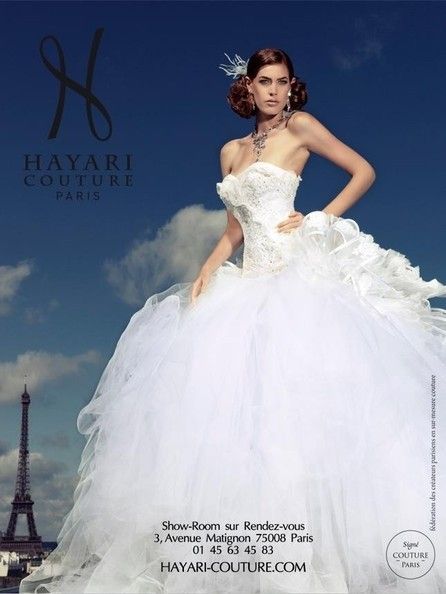 Hayari Paris
Couple of years ago, Hayari Paris established an outstanding Fashion house, in which Celebrities could revel in the kind of Fantasy they love. Luckily, this dream came true, and did not end just with Haute Couture gowns, but also realized in Perfumes. And It's hard to ignore the fact that only Women are the ones benefiting from Hayari's creations. First, the designers created the Haute Couture Gowns, shortly after, they made Hayari trio Perfumes, "Only for Her," "Broderie," and "Goldy," just for the wonderful World of Women. At this point, l must say, Men, don't be jealous, the designers already have plans for making exquisite collections for the Gentlemen!
Hayari collections are already the talk of the town, because the World Loves their creations! As usual, Creativity is free flowing when it comes to this Fashion House, because Nabil Hayari and Hugues Alard have established a way to satisfy their clients by establishing different ways to bring their collections closer to them. Although Hayari Paris is known for a lot of things, but mostly, they are known for their beauty and glamour. Also, they are known for their subtle, seductive, and enchanting collections, and are best appreciated as the most Fabulous Fashion House of our Time!

Henri Bendel, 712 Fifth Avenue New York!
The house of Hayari may be known for these beautiful things and much more, but it's Chic and Exquisite collections are very intriguing. So, ever wonder what it's like to walk into a shop here in United States and buy any Hayari Perfume of your choice? Now's your chance, in New York, at Henri Bendel Store on 712 Fifth Avenue. And in New Jersey, at Aveyou Beauty Store on 280 Norwood Avenue, Deal, New Jersey, 07723. And of course you can always order the perfumes online from www.bigelowchemists.com , www.henribendel.com, www.aveyou.com and www.hayariparis.com.

Henri Bendel 712 Fifth Avenue!
Hayari Paris isn't an unknown Brand anymore, but the fashion house is rolling out in international markets with a dramatic buzz these days. Hayari collections are just the kind of leading lights that American Entertainment Market wants. And that means Hayari Paris has plenty of lifetime to Live, and has become a hot spot for high profile Celebrities, Fashionistas, and Royals. The professional kudos of establishing the perfumes in United States and Canada will have a lasting appeal for the Fashion House. It will allow the designers more flexibility to correspond with distributors from their Parisian Atelier. We all know that through the years, New York, Milan and Paris have been the World's Fashion Capitals, and Hayari Paris have established their products in two out of the three World's Fashion Capitals. Surprisingly, this Fashion House is exponentially growing in show business and understand the needs of its players.


CEO of the Crafting Beauty, Francois R. Damide and Super Model Camilla Barungi at Benoit Bistro, New York.
Recently, Francois R. Damide was spotted in New York showcasing Hayari Haute Couture Gown, with Gorgeous Camilla Barungi as the model. And l must congratulate Francois R. Damide for a job well done, by putting out Hayari Paris in these prestigious places making it possible for the Clients both in US and Canada to have access to the fragrances of their dreams! Mr Francois R. Damide holds the exclusive rights for the Hayari Perfumes in US and Canada and have done so well with the perfume business in a very short time!

Super Model Camilla Barungi in Hayari Paris Gown at Benoit Bistro, New York!


Contacts
www.bigelowchemists.com
www.Henribendel.com
www.Aveyou.com
www.HayariParis.com