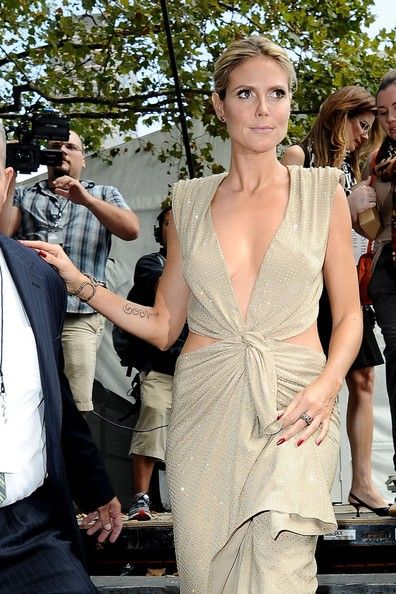 Prior to the broadcast on TMZ where Singer Seal publicly accused his estranged wife of "fornicating" with Martin Kristen, whom both he and Heidi employed as personal security. On the brink of celebrating the couple's 7 years marriage anniversary, the separation was announced. Finally, Heidi filled for divorce in April. The highly anticipated rumors about Heidi Klum cheating Singer Seal while still married have raised a lot of questions unanswered. But Singer Seal made it clear during the interview with TMZ, he said l guess you guys have the answer you've been looking for the past 7 months. Set in and around these rumors are facts about the romantic relationship between Heidi Klum and her sweetheart, Martin Kristen. Nonetheless, professional jealousies and extramarital affairs in any celebrity drama is usually not taken seriously. It's like the order of the day!



TV personality and model Heidi Klum seemed to be in a good mood as she and her body guard of 4 years were spotted jogging, well, one might say ofcourse they can jog
together, and there is nothing inappropriate, but the rumor has it.......



Model Heidi Klum goes for a morning jog in New York City with her bodyguard. The fit mom ran over 3 miles in her New Balance gear!
Here we go again, Martin Kristen checking out his Mistress!


I have not seen Seal and Heidi jogging before, how come? Togetherness forms a solid relationship!




Heidi Klum was spotted with her sweetheart during their vacation to Sardina, Kristen was comfortably playing with Heidi and Seal's children, and also Heidi was found wrapping her arms around Kristen's neck in such an intimate way.
Seal made headlines over the weekend when he told TMZ that he wished his wife had waited until atleast they were separated before having a fling with her bodyguard of four years.
When the going was good between Singer Seal and Supermodel Heidi Klum!!


Although, in the most recent interview, the singer is backing off from his original statement. He mentioned, that he didn't mean Heidi was unfaithful to him during their years in marriage. But l am confused here, because obviously, if Heidi is dating Kristen publicly now, she must have been doing it secretly for years. Relationships are not formed in a second, it takes a lot of efforts, energy, time spent together, nurturing and sacrifice to establish any relationship. As we can see, Heidi already made the biggest sacrifice ever. Letting go of her marriage of 7 years, and simultaneously moving on, as if nothing happened.

Seal is just trying to be a gentleman, that's why he covered up his enstranged wife, Heidi Klum. Probably, because of the innocent ones, their children. Well, l am not a good judge of character, but it's obvious.
Once upon a time Happy Couple!


"Seal would like to clarify that he was not implying his wife was cheating on him while they were together," his rep said in a statement to People's magazine. "But rather he was pointing out that they are separated and the divorce is not final so they are legally still married.

In the picture below, Heidi was not even looking at Seal, but rather she was glaring at Martin Kristen!!







Check out the countenance of Martin Kristen's face. He is such a fulfilled bodyguard!


If Heidi Klum doesn't know how to keep her legs together, l recommend this perfume l love so much. As a woman, l also use this perfume to keep a check on myself. It is a symbol of Fidelity and Contentment."Broderie," examplifies the Fidelity, Purity, Glamour and Contentment of Hayari's Women, which is a symbol of Fulfillment!
Although Singer Seal made it clear, that he does not expect Heidi to be a Nun overnight, but she should show class, and wait till the marriage is finalized before fornicating with the Help!!
If Heidi can just start using this PERFUME "BRODERIE" now, maybe she will not let History repeat itself. I mean she will not cheat on Martin Kristen!
"Broderie" by Hayari: An ode to total femininity. The lily, first of all, a symbol of purity, combines with gardenia, representing fidelity. The fruity notes of mandarin and peach refresh the floral bouquet, while the powerful woody scents ...of sandalwood and the luxuriant, sensual patchouli free the senses and whisper their mysteries. The result is dazzling, luxurious and ultra-feminine: the olfactory notes embellished with pink gold highlight the precious fabrics, creating a succession of evanescent floral fragrances, odes to grace and liberty.