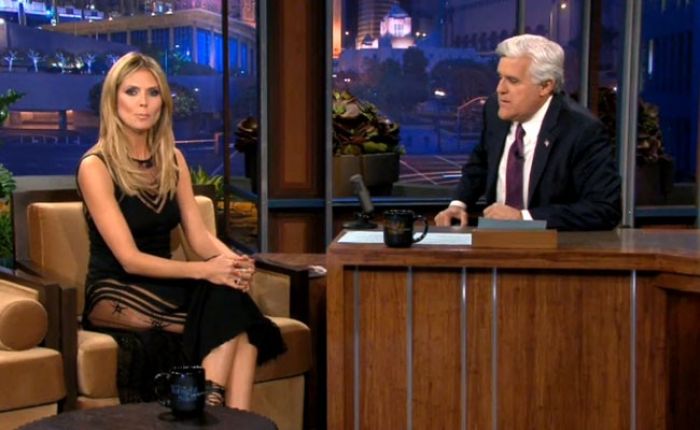 The Tonight Show with Jay Leno
Though Heidi Klum is known to be an extremely talented individual, I never would have guessed that she had table dancing skills as well. Wearing a cute black lace-slit dress, the skilled, dancing host of Project Runway seems to be able to do it all while having killer fashion sense.
If we learned anything from last night's episode of The Tonight Show with Jay Leno, it's that Heidi Klum is a braver woman than we. The Project Runway host visited the set in a black sleeveless dress with sheer net panels up the sides that, while definitely made for dancing, looked like a dangerous choice for doing so on a desk in front of television cameras.
The impromptu demonstration of one of her many talents — table dancing, that is — came after Jay asked her whether she ever fell off while doing so. Clearly, the answer was no, since she managed to mount the desk in the four-inch lace-up booties with minimal help from her host. Read More and Watch the Video