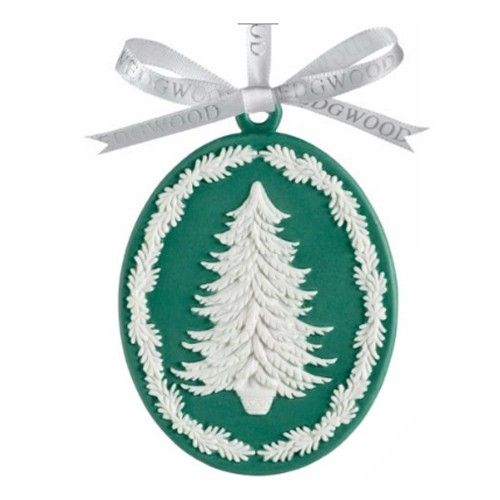 Wedgwood
Heirloom Christmas Ornaments: Wedgwood and Waterford in the Sales
I know post-Christmas Christmas decoration purchases are a touch naff, but I couldn't resist these ever so kitch Wedgwood and Waterford Crystal ornaments in the sale.
Every year Wedgood and Waterford produce limited edition Christmas ornaments for that year, as well as commemorative pieces to celebrate the birth of a baby and anniversaries. I probably wouldn't be buying them full-price (the Wedgwood are usually £17.50 each, the Waterford an eye-watering £35), but reduced very precisely to £4.37 and £8.75 respectively in the Army & Navy sale, they're no longer too expensive to hang on the tree ~ provided my cats are banished from the dining room for the duration.
I like the idea of contributing my own heirlooms to sit alongside those of Christmases past ~ darling glittery fruit that adorned the trees of my mother's childhood, a baby-faced fairy from the 1940s ~ always slightly too heavy for the top of the tree and with delicate tinsel-fringed paper wings that have somehow lasted all these years, as well as the hand-knitted Scandinavian designed snowmen and mushrooms I found recently at Rialto Living in Palma, Mallorca.
I was also delighted to find this Waterford baby bottle, a really sweet present for my cousin's first baby who was born in November. It comes with a silver-plated top and the glass is etched with the words 'Baby's First Christmas' and smartly packaged in a red presentation box. I knew she'd be overwhelmed with clothes and toys for him, and I liked the idea of giving her something to cherish in years to come.
Come to think of it, what a nice tradition it would be to buy a child a special commemorative Christmas or holiday ornament every year, one for each year of their childhood.
Follow LuxeGuru on Twitter: @LuxeGuru
Wedgwood
Wedgwood Red Santa Cameo
Wedgwood
Wedgwood Snowman Cameo Green
Wedgwood
Wedgwood All I Want for Christmas
Waterford
Waterford 2011 Annual Celebrations Baby
Waterford
Waterford 2011 Annual Angel