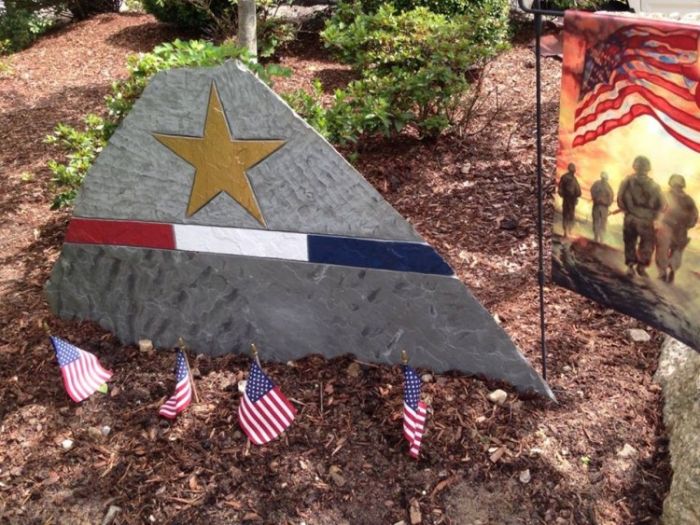 Hero Stars Cape Cod
There are heroes among us every day – ordinary people who do something extraordinary. To Bill and Cindy Witkowski, those heroes are found in the military. For those fallen soldiers, who have paid the ultimate price for our freedom, the Witkowskis have set out to celebrate their lives with a heartfelt tribute. Meet Hero Stars of Cape Cod.
Bill had a landscape construction company doing lots of work with hardscape designs before he began Hero Stars. "I started out making Cape themed products like seashells and butterflies before I first heard the story of Gold Star families," he said. "We have delivered 75 stones to Gold Star families in eight states and have done more than 150 stones in total. We saw what these stones could do for families and wanted it to be a way to honor the family's son or daughter's sacrifice and service."
What makes Hero Stars so special is every stone is hand carved so no two are ever alike. Bill carves them from pallets of stones he purchases from a stone yard in Harwich, Mass. for about $500, money of which he raises through the sale of T-shirts and other stones. (Each pallet makes about 15 stones).
Bill's wife Cindy helps paint the stones, attends local military events with her husband and hand delivers them to each hero's family. "We try to comfort the families as much as we can," she said. "We want the stones to be something they can look at every day and remember their loved one's sacrifice. We hope it is something that makes them happy. There are no names on the stones because it is supposed to be a happy stone for families to remember their bravery and sacrifice. It gives us a lot of joy and we see it as something we can give back to the families who have lost everything. The Hero Star honors these heroes in a simple way so that they can live in our hearts forever."
For more information, visit http://www.herostars.org/.
Hero Stars Cape Cod
Hero Stars Cape Cod
Hero Stars Cape Cod