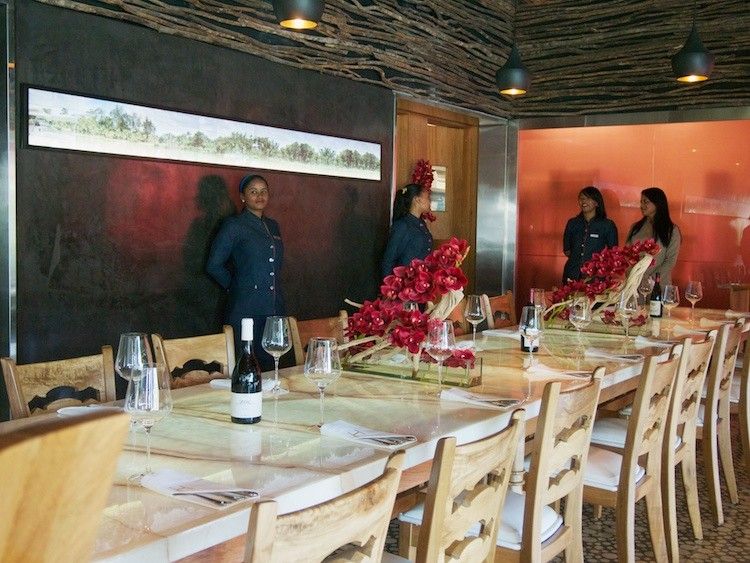 Columbia Hillen
Stepping out on to the busy streets of Zona Colonial in downtown Santo Domingo, the smell of fried chicken, pizza, pasta, steak and French fries envelopes one, wafting from terraced restaurants or through windows in old, ornate Spanish buildings.
But where's the traditional Dominican food?
To find out, we had to take a taxi five miles outside the old town to Parque Mirador Sur, a middle to upper-class suburb, where several embassies and ambassadors' homes are located. Located on the shores of an artificial lake scattered with small leisure craft, it's also an attractive and safe place for weekend family recreation.
Located under an ultra-modern, triangular-shaped roof fronted by a line of palm trees beside the main road, Higuero delivers a diverse display of Dominican dishes, often with innovative twists to traditional cuisine, most with a historical perspective – many items being named after pivotal events or personalities involved in the development of the Dominican Republic. La Trinitaria, for example is the name given to empanadas of yucca, cheese and vegetables. It also is the name of a secret, revolutionary organisation led by national hero, Juan Pablo Duarte, which helped establish the Dominican Republic.
The restaurant has been opened by Luis Marino Lopez, the lively owner of the Adrian Tropical chain of restaurants in Santo Domingo (see photo below), who also owns the Arrozsal Restaurant, beside Higuero, that serves a mainly international menu.
Heriberto Hernandez, from Santiago, manager and head chef of Higuero, has been given the task of creating traditional Dominican cuisine that appeals to both local clients and international tourists wanting something unique to make their dining experiences memorable.
We expect spiciness to be a hallmark of such cuisine but are surprised to learn this is not so. Dominican sauces are rather simple, relying mainly on tomato sauce, onion, a little garlic and pepper, all flavored with cilantro ancho (culandro), a variety of cilantro with larger longer leaves and a distinctive flavor, as well as cubanelle, a small, sweet chili pepper. Thyme is sometimes used to flavor beans while in some regions a mixture of lettuce, carrot, fresh tomato and cabbage is served with a hot meal, which also normally includes rice and beans.
Higuero is a one-room restaurant, with a bar at one end behind a decorative screen of white rings. It's large but not overly spacious, its manageable size providing a comfortable sense of privacy. It also has a small terrace overlooking the lake, a delightful spot on balmy evenings and for lunches. Light-colored wood chairs, with white-topped wooden tables and dark walls adorned with illuminated photographs reflecting aspects of the nearby lake create a contemporary setting, complementing rustic elements such as a ceiling of twigs and bar stools sculpted like wine barrels. Higuero, named after a small tree bearing a fruit used in the treatment of infections, has a well-stocked bar with a wide selection of local rums.
The chicken soup we start with is a thick and wholesome broth, flavored with the subtle taste of cilantro ancho, and rich in pumpkin and plantain. The Chichatata and Lo che pico Duarte starters that follow elevate our appreciation for the delights of traditional Dominican food. Chichatata is a basket of deep fried pork belly and hand-cut potatoes, a combination of sweet and salty, crisp and soft that raises the concept of deep-frying to a gourmet level. The 'Duarte peak' is a healthy alternative starter, a mountain of cassava nachos covered with a lava-spill of guacamole and chicken pieces.
Noticing a particular item on the menu reminds me of travels in Morocco last year and an inkling I had one day for goat's meat – an often overlooked delicacy. My determined search met with success when, finding a butcher's shop on a side-street, I purchased some juicy chops and had them slowly grilled in a local outdoor cafe. What a treat that was. This time no searching is involved, except down through the list of menu items, but the meat, oven-roasted in a delicious herb sauce, was enjoyed with just as much relish.
Being on an island, my companion's choice of main dish was, naturally, fish - the choice, red snapper accompanied by Chenchen, a cracked corn pilaf in coconut milk. The fish was soft and tender, not overcooked in any way, its flavor enhanced by the sweet traditional corn dish. Our desserts – home made ice cream and sorbet - provided a perfect balance of sweet and fresh fruit flavors.
Reflecting the traditional character of the restaurant, coffee is prepared in a ritualistic way tableside with the waitress using a wooden stand and a long filter pouch. Its rich aroma lingered in the air and its taste was truly uplifting.
http://www.facebook.com/RestauranteHiguero
Columbia Hillen
Columbia Hillen
Columbia Hillen
Columbia Hillen
Columbia Hillen
Columbia Hillen
Columbia Hillen
Columbia Hillen
Columbia Hillen