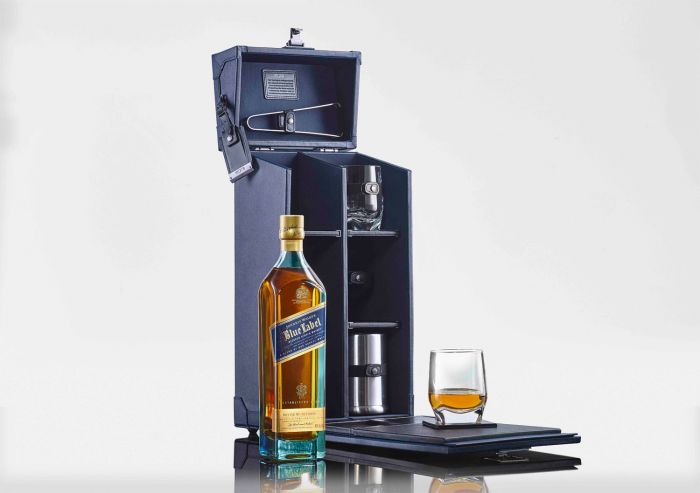 Johnnie Walker Tumi Case
The holidays are just around the corner, and we looked all over the world for the best of the best in the gift-giving world. Find the perfect, unique gift for everyone in your life with our handy 2015 gift guide.
For the Whisky Lover: TUMI x Johnnie Walker Blue Label Tasting Case
Inspired by the rare casks selected to create Johnnie Walker Blue Label, this limited edition offering from two world-class brands leaves no detail behind. It took one year for a small group of Italy's most talented artisans to build less than 100 of these cases.
The tasting kit, designed for global citizens to enjoy Johnnie Walker Blue Label from wherever they are in the world, includes:
Leather carry case laser-etched with TUMI logo and custom-sized to perfectly fit a 750ml Johnnie Walker Blue Label bottle
Leather holders and coasters, magnetically held into place with laser-etched John Walker & Sons monogram
Two premium rocks glasses supported by slide in-and-out nickel plated
C-channels, doubling as a coaster
Ice bucket and tongs
Option to custom engrave the face of the Johnnie Walker Blue Label bottle
Only 65 are for purchase at TUMI.com and select TUMI retail stores in New York and California (SRP $5,000).
For the Lover of Jewelry & Italy:
Featured in the Neiman Marcus Christmas Book Fantasy Gifts for 2015, give the gift of a chance to experience a side of Italy rarely seen by outsiders. Take a trip of a lifetime with yourself and and three guests, joined by internationally acclaimed jewelry designer Ippolita Rostagno on an intimate seven-day privileged-access art tour of Florence and Venice.
Ippolita will introduce you to acclaimed artists, visit local workshops, enjoy VIP museum tours and dine on authentic Italian cuisine. Gifts include special mementos from studio visits and a newfound appreciation for art history in progress. Visit NeimanMarcus.com/Italy for information.
For the Space Fanatic: World View Spaceflight
Also featured in the Neiman Marcus Christmas Book Fantasy Gift is an exclusive World View package, available to only ten Neiman Marcus customers. This package features the rare opportunity to be a part of a World View test flight with a behind-the-scenes invitation. A luxury experience from launch to landing, a flight with World View is the way to witness Earth from 100,000 feet above, and see the sun rise against space. Each package also includes a private tour of Biosphere 2 with original crew member and World View CEO, Jane Poynter, along with a ticket to be one of the first to see Earth from the company's luxury pressurized capsule along with luxury accommodations at Miraval Resort and Spa.
With each purchase of each Neiman Marcus Fantasy Gift, including the exclusive World View package, Neiman Marcus will make a donation to The Heart of Neiman Marcus Foundation, which supports art education and experiences for youth.
Photo Credit: Axel & Ash
For the Inner Writer with Wanderlust:
Give your friends and family the gift of stylish inspiration with Axel & Ash's unique creative journals. The lovely "My BUCKETLIST" is bound in classic black cloth and is filled with encouraging life and travel quotes, tips, interviews, and edgy global photography- to inspire, empower and motivate.
For the Wine Lover: Cameron Hughes Wine
A special partner ship between Amazon.com and Cameron Hughes Wine introduces a perfectly packaged, high-end vintage Cabernet wine collection gift box set available now. The World's Greatest Wine Deal is produced from the finest estate vineyards in Napa Valley as a six vintage vertical library of world class Napa Valley Cabernet Sauvignon. Each wood box set contains one 750mL bottle of each of the 2006, 2007, 2008, 2009, 2010 and 2011 vintages.
For the Sweet Tooth (Stocking Stuffer):
The holidays get even sweeter with classic M &M's with a designer twist: personalization. The enticing chocolate candies come in 25 different colors, with the option to customize with messages, clip art images or personalized photos. Comes in a variety of packaging, including silver favor tins, party packs, an apothecary jar, acrylic gift boxes and more. To order: www.mymms.com.
Photo Credit: Guitar Center
For the Guitar Guru:
Give the gift of music and luxury with the Gibson Custom 2015 L-5 CES Electric Guitar Vintage Sunburst. Known for its depth and mellowness, this award-winning jazz guitar blends the tonal quality of the acoustic guitar and the advantages of an electric are combined in one instrument. Very few carved guitars are built each year because of the scarcity of the wood required and the handcrafting involved. $10,599.00 at GuitarCenter.com
For the Tea Snob:
Teavana has release a beautiful 2015 Holiday collection to please even the most finicky tea connoisseur. The Oprah Chai Steep Good Thoughts Set was co-created by Oprah Winfrey herself, and features a specially designed ceramic tea for one stacking mug and teapot and with the original Oprah Chai blend and the new caffeine-free version. For every set purchased, $4 is also donated to the Oprah Winfrey Leadership Academy Foundation. $89.95. Also check out the Baroque mugs, designed from new bone china in a variety of holiday colors and real gold plating. $19.95-$49.95 at Teavana.com.
For the Fashionista Who Has Everything:
Dolce & Gabbana have launched an exclusive Monica Bag, crafted in exotic skins, front golden clasp and baby pink ostrich exterior. The classic square shape with top handle is an ode to sophistication and seduction. Only 25 are available, and only to AMEX Platinim or Centurion Card members. To order, call 212.897.9653.