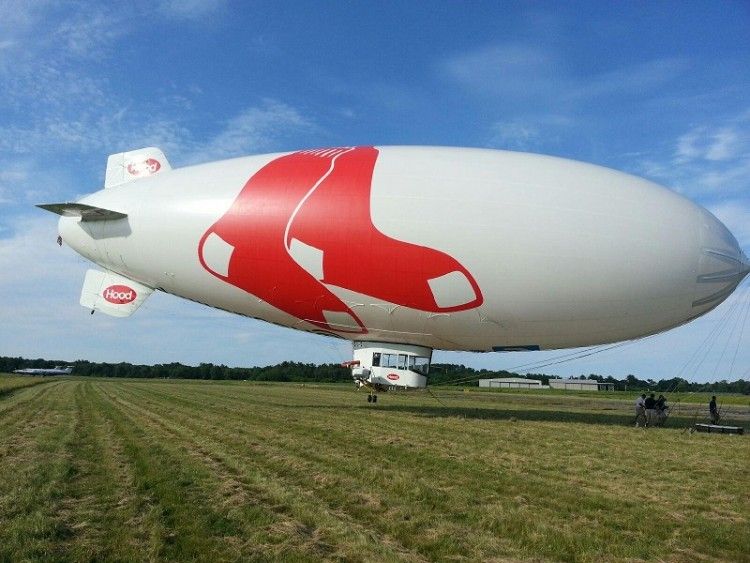 Hood
New Englanders love Hood just as much as they love the Boston Red Sox so it's no wonder they decided to partner together to bring us the best of both worlds. The Hood Blimp has just returned to Boston for the summer season and it is back better than ever this year. What makes this season's return so special is the blimp (the only airship that is internally illuminated for 24-hour-a-day advertising) can be seen throughout the city displaying the Boston Red Sox logo on one side of the airship with the Hood logo prominently on the other.
Hood has been partnering with the Red Sox for more than a decade in support of the Red Sox Foundation, the official charity of the team. Hood even has a line of Red Sox Champions Ice Cream for fans, which includes six flavors -- Green Monster Mint, Bosox Brownie, Grand Slam Vanilla, Peanut Butter Nation, Fenway Fudge and Comeback Caramel.
"We will be flying over 22 Red Sox home games at Fenway Park and will travel to Cape Cod and Long Island when we aren't doing baseball games," said Terry Dillard, chief pilot of the Hood blimp, who works for Van Wagner Airship Group. "Inside the blimp, there are two seats in front and two in back. Everything about the blimp revolves around weight. It can lift up to 900 pounds and is capable of flying without refueling for 12 to 14 hours. On a normal day, we fly about four to five hours but on games that last 12 innings, we fly about 7.5 hours."
Dillard has spent more than 13,000 hours in airships and flown over events including the Super Bowl, the Kentucky Derby, NASCAR, Indy 500, the World Series and the Olympic games in Atlanta in 1996. "I came out of the hot air balloon industry and started flying the Hood blimp in 1994. The company I work for, Van Wagner Airship Group, does a lot of sports marketing and they make airships available around the world. There are currently 22 airships in the world and we own 12 of those. Three are owned by Goodyear. We will be in Boston until September 1 and then we return to our hangar in Nashville, Tennessee. It will take about seven days to get there."
To celebrate the partnership, Hood is now offering The Hood Blimp Sweepstakes on Facebook where fans have the opportunity to enter to win a ride in the blimp. Just visit the site, submit a photo of the Hood Blimp on the Hood Facebook page or on Twitter using #HoodBlimpSweeps for a chance to win a variety of prizes including Red Sox memorabilia. One lucky grand prize winner will be chosen to take a ride in the Hood Blimp. To learn more about the sweepstakes and read official contest rules, visit Facebook.com/hphood. When the Hood blimp is not being flown, it is stationed at Beverly Airport where fans can visit and take pictures.
Hood