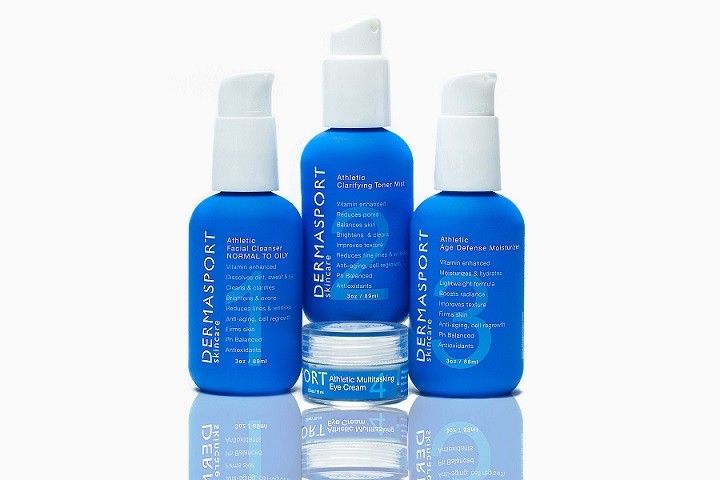 DERMASPORT
Sometimes women aren't the only ones who deserve a little extra pampering. If you have a special guy in your life who needs some TLC, here is a roundup of gift ideas that he is sure to love:
For the man who knows how to take care of his skin, be sure to check out DERMASPORT the newskincare line that addresses the needs of athletes and those with active lifestyles. We all know that exercise is beneficial to the body in so many ways, but athletes also face rigorous conditions that can do a number on the skin. To keep his face looking hydrated and more youthful, we love this collection that includes Athletic Face Wash (for oily, normal and dry skin), a deliciously citrus scented Athletic Clarifying Toner Mist, rich and creamy Age Defense Moisturizer and Multi-Tasking Eye Cream designed to reduce the appearance of dark circles. Each product in the two-month supply is designed to restore the skin's pH balance, cleanse, clarify and nourish. We love the key ingredients such as anti-aging peptides, antioxidants, soothing natural extracts and botanicals that work to promote his silky soft skin while repairing the skin's natural barrier. With four easy steps, he will be onto revitalized, younger looking skin in less than five minutes.
When it comes to hair and body cleansing, our guy can't get enough of WEN MEN - infused with amber, bamboo, cardamom and ginger root extracts. Not only does it smell incredible but its unique formula is designed to cleanse him from head to toe. The five-in-one product and new line created by Chaz Dean acts as a shampoo, conditioner, deep conditioner, leave-in conditioner and body wash. The lather-free formula does not contain harsh chemicals that strip his hair of natural oils and is gluten-free. Instead, the luxe cleansing conditioner works to strengthen and moisturize hair for manageability and long-lasting color protection.
To finish off his new look, you have to choose the right scent.Jordan Fragrances has recently introduced a new Sports Series Collection that features four fabulous scents, Energy, Balance, Drive and Power (our favorite). Designed with the athlete in mind (like Michael Jordan), each fragrance combines sport with style. We love the full-bodied Power fragrance that has delicious hints of orange flower, chilled black pepper, bitter lime, ginger and iced juniper complemented with sweet lavender, white amber, patchouli and cashmere woods packaged in a gorgeous bright red box.
For gift sets, we look to ULTA Beauty for the Gucci Made to Measure Gift Set for Men. This clean modern scent combines Calabrian Bergamot, French Lavender and Anise for the sophisticated man. Included in the package is an eau de toilette spray, after shave balm and shaving gel.
The Dolce & Gabbana the one Gift Set for Men offers a classic scent is for the contemporary man with style combining a blend of cardamom, ginger, cedar wood, and citrus spice in a beautiful box. The set includes an eau de toilette spray and after shave balm.
Chaz Dean
ULTA