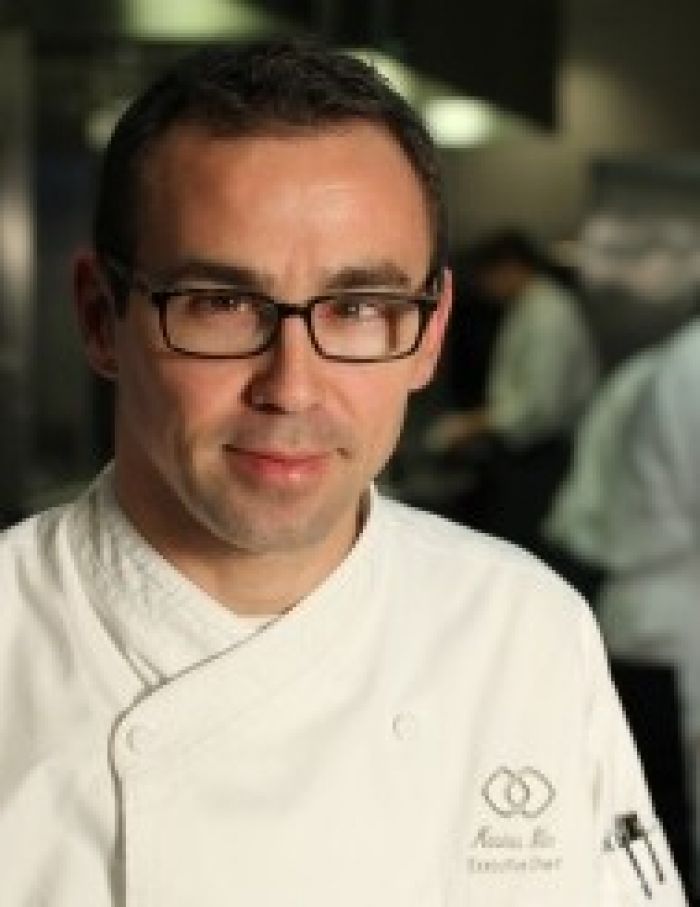 By Pikke Allen, Luxe Lounge Contributor/Founding Member
Executive Chef Marius Blin, presides over this new menu that features local harvests, herbs grown from their own garden combined with fresh ingredients. Taking the best ideas of French Nouvelle Cuisine and combining them with a spa-centered low fat concept, the hotel has brought to Los Angeles, a "Think French, Think Thin" menu that will be added throughout the hotel. Already a successful program in many of the worldwide Sofitel properties, the menu debuts here in the US for the first time.
The first Course: The concept of a "Sea & Spa" was kicked off by this first course. A duo of Shrimp arrived and were happily ensconced on on a bed of kale greens complimented with a French mustard sauce to dip with. A small selection of boutique mushrooms bathed in a light soy sauce were complimented by a decorative petite tomato, for color.
Critique: This course was presented very well and really kicked off the Asian Fusion theme of "Sea and Soul". However, I was a bit disapointed as the shrimp had little or no flavor, perhaps due to the type of shrimp. If it had been seared instead of steamed, this would have improved its taste. The Kale was chopped and prepared with a light steam, then sauteed; missing was something to hold the kale together a bit more; such as a chopped bit of yellow vegetable to add a bit of color and moisture to the kale. Together with the shrimp, they were a nice combination but in themselves, not so interesting. If the idea was to go more Asian fusion perhaps adding either a ginger, or plum flavoring would have added something. I know Kale is good for me, so getting me to eat it in any dish is challenging; this was a great way to re-think the idea; so for that, it was successful.
The Second Course: This course featured a centerpiece of a light seared Halibut that was sitting on a slice of sangria flavored watermelon aspic. A light plum sauce was showcased on the plate.
Critique: The fish was pan seared but turned out rather dry on the plate; the fact that it was without any sort of sauce or condiment, except a lemon wedge was a bit difficult. Had there been a light low fat yogurt based sauce, with something like a ginger spice or lemon flavoring with perhaps a unique Indian or South East Asian spice to compliment, this would have been perfect. The watermelon aspic, while showy, was really not that special. A watermelon juice based "salsa" made with a variety of fresh vegetable ingredients would have added the moisture needed for the fish which was delicious. Then, the combinations of crunchy and saucy, would have added to the experience.
The Third Course: Panacotta with mixed Berries. This was a tofu "cheesecake" that was sitting on a plate with a selection of berries and a whisp of plum sauce.
Critique: This dessert was conceived from Tofu and was really the brilliant surprise here. First of all, this dessert is typically rich and causes a mild heart attack when you eat it. This was a lovely version complimented by the berries in a light coulis sauce. I would have also drizzled a few drops of agave syrup for the sugar addicts, like me. But, as it stood, this was the most successful part of the meal for me in its entire presentation, conception and execution. Who knew that TOFU, could become something so elegant?
The Selection mentioned here is just the beginning, of this spectacular low calorie menu offerings. The Executive Chef is very open to suggestions so please do stop in and see how the menu is progressing at the hotel, you'll be pleasantly surprised at how thin you'll get when eating these rich yet skinny, French "Delights". I can't wait to go back and try more more dishes on menu. This is a concept that will help you re-think what it means to eat in the 'French' style.
Don't forget the light bubbling beverages and if we had our preference, this would be Champagne, of course!
For further information and to download the menus, go to:http://www.sofitel.com