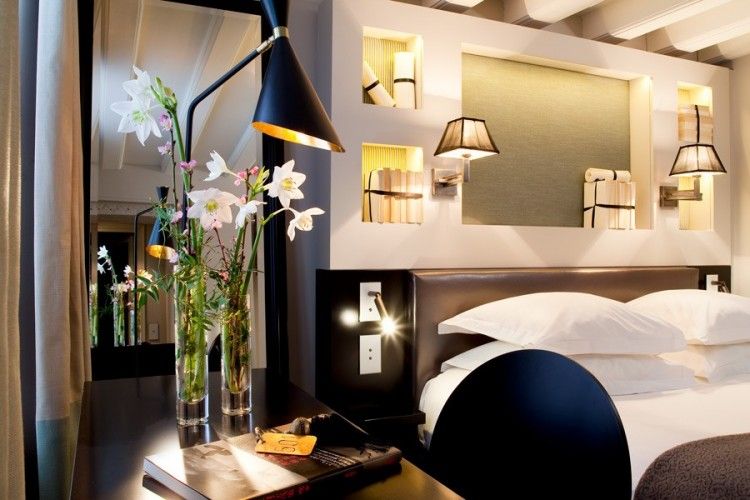 Hotel Verneuil
Ernest Hemingway was right when he said, "If you are lucky enough to have lived in Paris as a young man, then wherever you go for the rest of your life, it stays with you, for Paris is a moveable feast." I recently discovered that the same goes for women, either young or old when I spent three nights in the city of light at the start of August.
I can still see the architecture, café culture, cobbled streets, shops and history as if I was there this morning, but one of the things that really stays with me is the charming little hotel I stayed in.
Fabulous first impressions
Hotel Verneuil is one of the more unique hotels in Paris. Set in a newly renovated 17th century townhouse, it's been painstakingly decorated in an intimate and elegant style that helps bring to life the historic building. The reception area is full of sumptuous chairs and coverless books rolled up and bound with black ribbon, while stained glass windows line the walls alongside a spiral staircase made from rich wood. And the bedroom didn't disappoint either.
While a little cramped (the hallmark of pretty much all Parisian hotels), I was bowled over by how lovely my Club room was. A vintage-inspired floor lamp illuminated the space and shelving peppered with the same coverless books as the reception area overlooked the bed, which was made up with some of the softest, plushest bedding and bed linen that I've had the pleasure of sleeping on. Laying my head on the pillows was like sinking into a cloud, something I haven't often found at even the more expensive UK hotels I've stayed in.
Then there was the bathroom, a modern-contemporary masterpiece of black and white stripes and small, shining black tiles that I couldn't take my eyes off. It even came complete with a couple of cosy, extra-large bathrobes that I was very tempted to smuggle home! Although a little crispy at first, the material was soon broken in during my evenings lounging on the bed eating Laduree macaroons and proved to be incredibly warm and comforting!
Cracking jokes with the concierge
The main way I found that Hotel Verneuil differed from many UK hotels was the attitude of the concierge. While concierges in the UK are by no means rude or obnoxious, the two at Hotel Verneuil went the extra mile to improve my stay.
In the run up to my train journey from St. Pancras I received a couple of emails that were full of details about transport from Charles de Gaulle airport and the Gare du Nord, that the hotel could organise on my behalf. Even when I arrived at the hotel the concierge on night duty asked if I'd like any transport, restaurant bookings or ticket bookings organising, and kept me laughing with a good few jokes. After hearing horror stories about how rude the Parisians could be, this was a breath of fresh air that set me up for the rest of my holiday.
Breakfast in a stylish cavern
A strange subheading, I know, but this is exactly how I saw Hotel Verneuil's breakfast room. I mean it in the best way too – the room incorporates an amazing stone-vaulted ceiling that, again, brings the history of this old building to life.
Breakfast itself was generic but very tasty. I sampled a little of everything from the buffet-style selection of cheeses, juice, fruit salad, yoghurt, cereals, bread and croissants, as well as partaking in a little extra bacon and a cup of tea. Everything tasted fresh and full of flavour and kept me full up until dinner time, something I was very thankful for given Hotel Verneuil's proximity to some of Paris' main sights.
A location to die for
As well as being located on a quiet stretch of theRue de Verneuil, the hotel is just a stone's throw away from St. Germain des Pres, numerous tourist hotspots and some real gems of shops.
The Seine, Louvre, Musee d'Orsay and Jardin des Tuileries are all within walking distance, meaning you can save at least a day's worth of Metro fare! You could spend a whole day in the St. Germain des Pres area itself though. As well as being home to the famous Café de Flore – haunt of choice for notable figures like Jean-Paul Sartre and Pablo Picasso – it houses luxurious designer shops and one of the best crepe wagons in the city!
One of my favourite things to do, however, was just wander the maze of streets surrounding Hotel Verneuil. This freedom from my itinerary was what helped me discover Serge Gainsbourg's former home (complete with fan-painted wall mural), small art galleries, curiosity shops and one of Paris' hidden gems, the historic taxidermy shop Deyrolle. Far from morbid, the animals were so well preserved and so wide-ranging in species that it was more like walking into a natural history museum than a taxidermy shop! It's definitely a must-see.
A price worth paying
It's no secret that hotels in Paris are priced at the higher end of the spectrum than UK hotels, and Hotel Verneuil is no exception. It's also worth noting that you get what you pay for in Paris (as horror stories from friends staying in budget hotels has proven), and I'm very glad I shelled out a little extra for this hotel.
My Club room was priced at €199 per night, while the smaller Classic rooms come in at €179 per night and lavish Deluxe rooms at €259. Breakfast, bedroom snacks and the mini bar all incur extra costs, but there are plenty of supermarkets and little bakeries in the surrounding streets to help you keep costs down if needs must.
Have you ever stayed at Hotel Verneuil? What did you think?
Michelle Pegg
Cafe De Flore
Mr & Mrs Smith
Hotel Verneuil breakfast room
Hotel Verneuil
Hotel Verneuil club room bathroom
Hotel Verneuil
Hotel Verneuil exterior
BroseNose
Taxidermy at Deyrolle