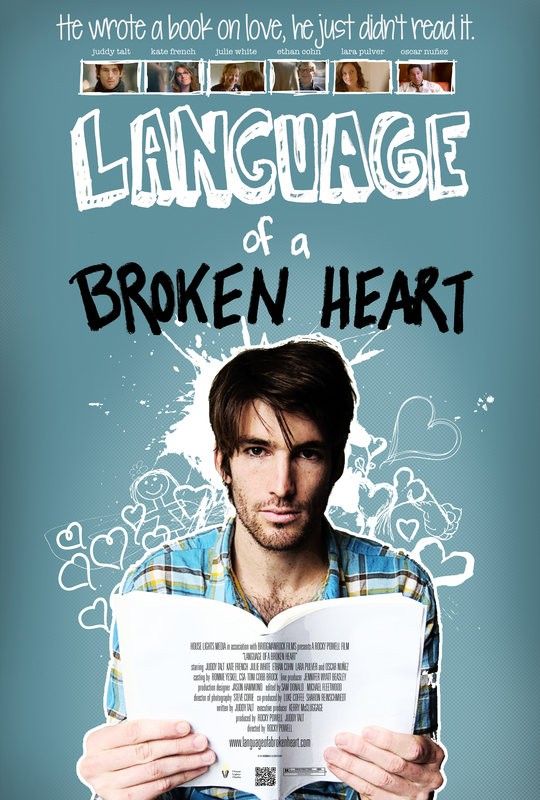 House Lights Media
As big budget blockbusters continue to drive moviegoers, there is some hope for smaller Indie films. Sandy Moore and Steve Roberts hope to change that, by bringing small films to big audiences with their new film distribution company, House Lights Media. One of their films is the romantic comedy, Language of a Broken Heart, which was previously in theaters and is due out on DVD, VOD and the Internet on October 1st. Here's a sneak peak at the company and their plans for the future of Indie cinema.
When did you launch House Lights Media? 
We launched House Lights Media (unofficially) in October of 2010 after much discussion on the state of independent film and right before the Starz Denver Film Festival here in Denver.  We attended that film festival and ended up signing our first project which was an English black and white dark comedy that was heavily influenced by Monty Python and the Ealing comedies of the 40's called The Drummond Will.  (Once we signed the film, we officially launched our company in March of 2011.)
How would you describe the company?
Our mission is to bring truly exceptional independent film to a broader audience.  The distribution and retail side of the industry has and continues to go through a tremendous change and we feel that there are some fantastic independent projects out there that deserve exposure to a larger audience, which with our backgrounds, we can offer.
How did you two end up working together and what made you decide to start a film distribution company?
We worked together 20 years ago at the Paramount Home Entertainment Chicago office.  Sandy left Paramount and moved to Denver almost 20 years ago working in the cable and satellite business as an executive recruiter and marketer, Steve stayed with Paramount for 18 years and was their V.P. of National Sales overseeing a sales team that managed over $700 million in annual revenue.  He relocated to the Denver area 13 years ago to be closer to the corporate offices in Hollywood.  They stayed in touch over the years and when discussing their passion for film decided to combine their expertise and give independent filmmakers access to their experience through distribution.
When you think of films you think of Hollywood, how did you end up basing your company in Denver?
With the contacts we have and with communication technology, we knew that we could do what we needed to do from where we truly enjoyed living, so we work the phones and make trips when we need to but are able to conduct all of our business from our preferred location.
How do you decide on which films to distribute?
We look for films that are well made both through story and production values.  Though our experience is in the home entertainment side, we are proud to say that we have been able to bring half of our projects to a limited theatrical release through some of the biggest and most recognizable chains in the industry, including Regal Entertainment Group, Carmike Cinemas, Harkins Theatres, Landmark and Laemmle Theatres.  These were projects that didn't have a lot of star appeal or big budgets, but were able to stand on their own merits.
Are there particular types of films that you're looking to represent?
We're really open to any genre of film, as long as it is well made.  Sandy personally prefers romantic comedies, just because those are the kinds of movies that she likes to watch, but we have been lucky in finding some great projects across a range of genres.  We have psychological thrillers, dramas, dark comedies, romantic comedies and even an animated children's series that we represent.  The connection between them all is the story and the exceptional way in which they're crafted.
One of your current films is Language of a Broken Heart, how would you describe the film?
Language of a Broken Heart is a romantic comedy about a neurotic author who wrote a book on love but forgot to read it.  He has the emotional capacity of a woman and gives advice on love while his own love life crumbles around him.  He returns home to his mother, the only woman who HE has ever left, and reconnects with his family and friends from his childhood.  He also meets an antiquarian bookseller who helps him along his road to self discovery.  It's a slightly different take on the genre as the film was written by a man (who is also the lead actor, Juddy Talt) and actually features very strong female characters, which is so not the point of view of most romantic comedies.
What was it about the film that appealed to you?
It was sweet, incredibly well directed and edited and really portrayed the female characters as fully developed with strong presences.
It's a romantic comedy.  Do you feel there is still a strong audience for that genre?
Fifty percent of the population of the US is women (it actually might be a little more), believe it or not, they like to go to the movies as well.  When we opened in Chicago, Denver and DC in April (after our premiers in New York and LA in March), we asked the audience on their way out what they thought of the movie and why they came.  So many of them talked about how they wanted to see a great date movie (that didn't involve cars, guns or people in costume) and Language was the only one that was out at that time.  The guys said that they enjoyed it as well and knew if they wanted to see Iron Man 3 with their partners, they needed to give and take and see a movie that they wanted to see as well.  We opened in New York the same weekend as Oz the Great and Powerful, and though we did not open on 6 screens simultaneously in that theater, we still made the Top 10 per screen average for that week on Box Office Mojo.  We did that for two of our nine weeks of theatrical, which indicates that there is still a strong audience.


What would you say is the toughest and the most rewarding part of your business?
The toughest part is getting our company and films recognized without a large marketing budget.  The most rewarding, is being able to meet all of these fantastic filmmakers and getting quality independent films released theatrically and across the additional distribution platforms for a wider audience to enjoy.
Check out the movie atwww.languageofabrokenheart.com.