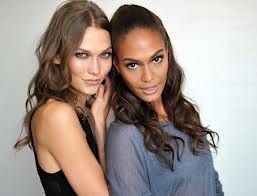 style.mtv.com
At the VMA awards it was announced that MTV will officially bring on Karlie Kloss and Joan Smalls will be the new hosts ofHouse of Style.
We recently reported that the music channel was bringing back its throw-back stlye show from the 90s and are in agreement that Karlie Kloss with Joan Smalls are the perfect pair to take on the task of revamping the revived style entertainment.
Remember the post about Kloss changing modeling agency due to "upcoming projects" that released her IMG? And it looks like this is the project, or at least one of them Kloss was referring to. She announced her news at DKNY Fashion's Night Out event and is well on her way to becoming the next American supermodel.
Now let's see a guest list and we will be ready to watch the made over House of Style.