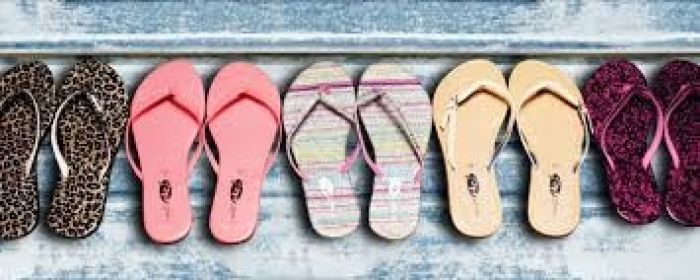 Image
When it comes to male footwear, there is one age old blunder that just cannot be accepted. This glaringly obvious fashion faux pas can turn off women more than forty paces away. It can make a child with an ice cream suddenly burst into tears. If there is a god, it even makes him unhappy. Despite all of these things, there are plenty of men in the world who still think it's okay to wear socks with their sandals or flip flops.
If you're currently grimacing, well done. It's an image that's worth a grimace or two. Admittedly, you probably can get away with the socks and sandals combo if you're over the age of fifty five, but that's only because we've given up on you anyway. If you want to be a part of the male elite, you've got to leave those socks at home when you hit the beach, says Huffington Post. Here's a guide to some of the most heinous fashion faux pas associated with sandals and flip flops.
Don't Go For Light Colours
If you must insist on wearing sandals or flip flops, do make sure that they look sophisticated and stylish. The last thing you want is a pair of shoes that are better suited to a new age retreat than a trip to the park or the beach. Though Birkenstocks used to be very popular and to a large extent still are, they're favoured by geography teachers, dads who think that they're cool and people who carry satchels made out of hemp. If you want to avoid looking like a poorly dressed hippy, stick to dark shades. Black, grey, navy blue and even moss green sandals can all look very elegant.
Don't Try To Look Athletic
These days, there are an awful lot of flip flops and sandals on the market that are meant to be vaguely athletic. This is a strange notion, considering the fact that sandals are the very least athletic type of shoe available. Do avoid rubber and foam shoes that are meant to be lightweight and breathable, says Ask Men journalist Adam Fox. More often than not, the rubber just makes your feet really sweaty and you start to slide around inside your shoes – not attractive.
Don't Buy Too Bulky
Lots of men seem to think that buying sandals that are very chunky will somehow 'butch' up their choice of footwear. First things first – sandals and flip flops don't need to be 'butched up.' They're frequent silliness is nothing to do with the fact that they're not masculine enough. Nobody ever said that sandals are just for girls. So, don't fall for the hype – buying a bulky, cumbersome pair of Doc Marten sandals won't ever be a good idea. If it's hot, your feet will very quickly become a swamp and nobody wants that, says FashionBeans.com journalist Alex Woodhall.
Don't Let Confuse Style & Function
There are all sorts of strange sandals and flip flops on the market at the moment. Not only are some pairs marketed as athletic sandals, there are now pairs that are marketed as hiking sandals. Now, maybe you've taken a pair of these strange sandals for a spin and you're very confident that they work – in that case, stick with what you know. To the rest of us, it doesn't sound like a very effective idea. If you're going hiking, put some boots on. If you're going to the beach or you're relaxing in searing hot temperatures, put some sandals on. There are good reasons why men only get their flip flops out a couple of times a year.
Author Bio: Sara is an expert on men's fashion and the author of a publication on men's footwear. She bought her favourite pair of sandals from BlueInc.co.uk. She can usually be found writing his next article or relaxing on the beach in her flip flops.