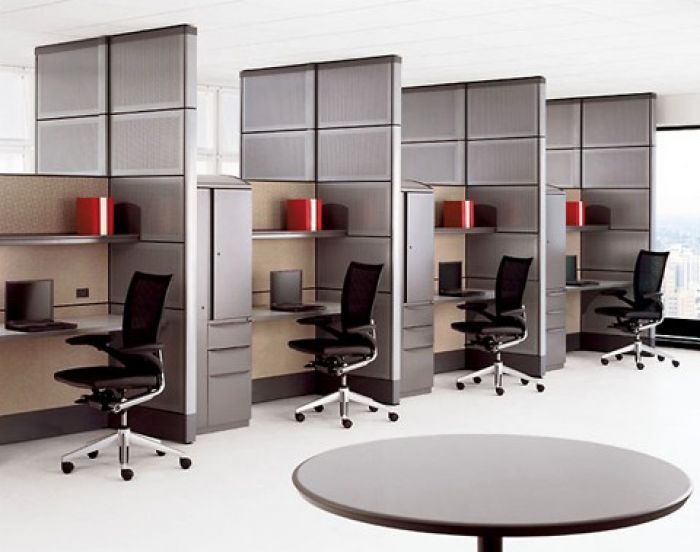 Offices were once very austere places with functional ddcor and devoid of any personality. However, in the modern age employers are aware that by creating the right atmosphere, productivity increases. As a result interior design in the workplace is more creative than ever before.

Colours and their effects
Certain colours are known to relate to certain moods and there is a belief that they can impact on the body and mind. This is part of the reason why offices usually employ the use of neutral colours like cream and white, which promote ideas about cleanliness, efficiency, purity and clarity. As well as being calming colours, light tones are also effective at making rooms look light and airy, as well as maximising the sense of space.

When seeking out office furniture, light colours are also the most popular, with finishes like oak and beech being the standard choice. This helps to create the feeling of uniformity, which goes hand in hand with what's expected of employees in an office environment.

Green is always a safe option in any interior, whether used in office furniture or on the wall, as it's widely regarded as a tranquil colour, which is positive and uplifting. Yellow is another one used frequently in offices because it feels sunny, comforting and warm.

Except as a feature, dark colours are rarely used in rooms, particularly those at work. Colours like black and brown are known to present themselves as dreary, menacing and cold. As a result, their application would be unlikely to inspire or energise those in their presence.

Space and layout
Creating a sense of space is very important in any office regardless of its size. Contemporary offices favour open plan designs and now shy away from the cluttered segregated booths seen in offices in the past. Open plan designs allow for conversation, which helps when it comes to sharing ideas. The environment we work in has a direct link to our motivation and productivity levels and so a pleasant office is likely to encourage us to work harder and stay focussed.

Employers are aware of this link and most will try to turn it to their advantage and create a favourable working environment by placing desks next to windows, ensuring plenty of natural light whenever possible and by using careful consideration when it comes to colour use.

Furniture can also have a role to play in getting it right across the board and by choosing simple, modern pieces; the environment becomes practical yet chic at the same time. The added bonus of simplistic designs is that they are flexible enough to complement any colour scheme and don't draw attention away from more plush furnishings and accessories.

Some industries, more than others, require a level of imagination from their staff. In marketing and advertising roles, for example, little touches may be added that help to spark the imagination, perhaps leading to that one great idea that will be very profitable and successful.

An injection of fun can have a positive impact on employees and prompt them to respond by offering loyalty and creativity in return. Many big, well-known companies worldwide have taken this idea to another level by adding inclusions like gyms, roller-skates to zoom around on and swimming pools and chill-out rooms for break-time use!

Whatever the business, there are plenty of things employers can include in their building that will encourage employees to work hard and enjoy their surroundings at the same time. From using colour effectively to adding personal touches, it's possible to create a pleasant environment, which will appeal to everybody.

AUTHOR BIO

Emmett Bowan writes regularly on a variety of subjects including office furniture and interior design for a range of decorating websites and blogs. Having worked in many drab and uninspiring offices over the years, he is always fascinated by examples of clever office design!