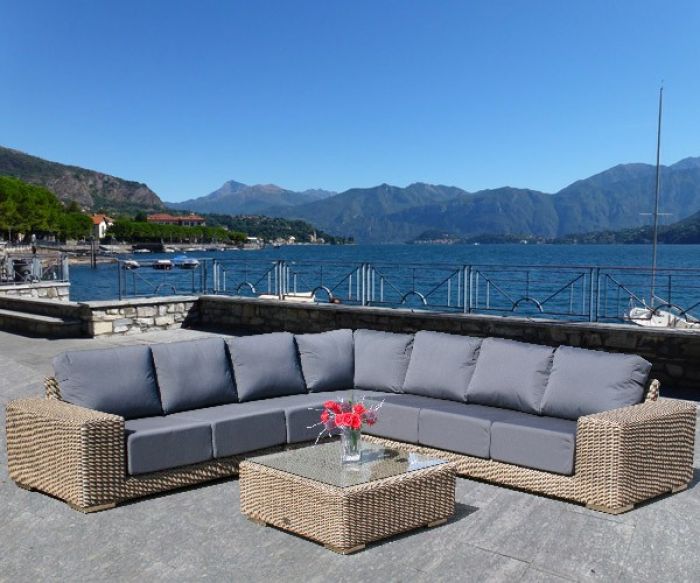 http://www.bridgman.co.uk/gard
How to Choose Luxury Outdoor Furniture
Enjoy Outdoor Living in Comfort and Style
Nothing beats sitting out on the deck or patio surrounded by friends and family, a cool drink in hand. A gentle breeze stirs the leaves as you bask in the warm air and breathe in the fragrances of the garden.
The only way to make this idyllic picture more perfect is to add luxury outdoor furniture.
The right outdoor furniture can transform your outdoor living space into a special place to relax and enjoy. Here's how you can select luxury outdoor furniture that will bring comfort and pleasure to you and your guests for years to come.
Consider the Space
Your space and the type of entertaining you do shape the kind of furniture you need.
Think about how you use the area. Is it a solitary retreat, a romantic getaway, or a family gathering spot? Do you eat outside or just read and relax? Do you use it year-round or seasonally? How many people do you want to seat?
How big is your outdoor living space? Is it exposed to the elements? Is there a view you want to highlight?
Decide What You Need
Garden furniture typically includes dining tables, chairs, loungers, benches, side tables, and storage pieces. Umbrellas, gliders, patio swings, and fire pits are popular accessories.
Apply what you know about your space and how you want to use it to figure how what pieces and how many of each you need. 
Choose a Style
While it doesn't need to be the same style as your house, your outdoor living space should complement the design and colours of your home. Like indoor furniture, outdoor furniture comes in a variety of traditional and contemporary styles. There are many options available when looking to buy furniture, but a great place to start is somewhere like Bridgman.
Decide on Materials
Hardwood, rattan, and certain metals combine the durability, comfort, and design you want in luxury outdoor furniture.
Teak is the classic hardwood for outdoor furniture. One of the most durable woods, teak is handsome, strong, and maintenance free. Iroko is almost as durable as teak and equally attractive.
'Rattan' is made from synthetic plastic, making it lightweight as well as durable. It is unaffected by all weather conditions, and is often paired with cushions.
Stainless steel and aluminium are also lightweight and durable. Their sleek lines are ideal for contemporary styles. Wrought iron is heavy; it's hard to move, but stable in high winds.
Look for Quality and Comfort
As with any purchase compare warrantees and return policies as well as the reputations of dealers and manufacturers.
Inspect the furniture, looking for:
·       Closely fitted joints on wood furniture;
·       Neat welded joints on metal;
·       No rust spots on metal;
·       Uniform finish;
·       No sharp edges, even on undersides; and
·       Nuts and bolts hidden or capped.
Above all else, luxury outdoor furniture must be comfortable. Sit in chairs and loungers; are the seats roomy and the backrests comfortable? Pull chairs in close to the table to make sure the chairs are the right height for the table and that there is enough legroom. Any cushions should have ample padding.
Style, Comfort, and Durability
Luxury outdoor furniture balances style with comfort, quality, and durability—just what you want for fine outdoor living.
http://www.bridgman.co.uk/gard
Luxurious teak furniture
http://www.bridgman.co.uk/gard
Luxurious metal furniture