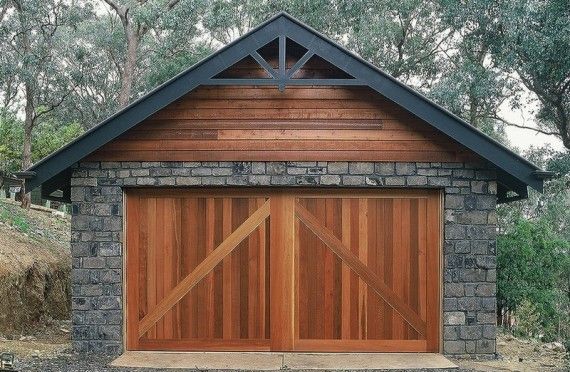 Homeowners can give their homes a face-lift by installing rustic garage doors. Rustic doors for garages come in several different styles and are made of different materials, but they are ornamental. They provide an easy way to improve property value. Purchasing garage doors during special sales or using special deals can lower the price tag, and everyone likes to save money wherever they can. Still, rustic garage doors are reasonably priced, for a convenient way to dress-up home exteriors.

Types of Rustic Garage Doors

Barn Door - People can have a piece of the country farm attached to their house with a barn styled door for their garage. Options include those that have the appearance of a barn door in a top-lifting system or doors that swing out to open.

Carriage - The swing out carriage doors are extremely popular. These doors can be finished in the natural wood look or with a painted appearance like white or rust-red. People can choose what color they like best. Often the hardware is wrought iron or a wrought iron look.

Custom - Homeowners can select any of these fine styles for a rustic garage door, or they can choose an entirely different custom design. Custom doors will fit to unusual door shapes and sizes and meet any customer specifications.

French Provincial - Bringing a little of the Old World into the home on the outside looks fabulous in French Provincial garage doors in a rustic wood look. People can give their home the look of a French country house with a new, rustic French-style door.

Western - People can recreate the look of the Wild West with a western-style garage door. Several patterns are used for exposed or finished wood doors that have the western flair.

Choosing a Garage Door that Fits Home

Of course, home owners will want their garage doors to compliment the appearance of their entire home. Homes with traditional exterior decor should have traditional doors. The rustic garage door should compliment the exterior of the home. When matched with a casual or similar home exterior decor, the garage door can look amazing.

Enhancing Curb Appeal

Whether people just need to replace a broken door or they are tired of the garage door they have, they can select a new door that will improve the appearance of their home. People can give their homes a new garage door and enhance the curb appeal of the entire property. Sometimes, the door to the garage is the most prominent feature of the home as seen from the street. When people take care of the garage door and make sure it is looking new, their entire home may look better. Purchasing an attractive rustic garage door in cedar, other lightweight wood or a vinyl or metal door that looks rustic, can give the entire property an improved appearance.