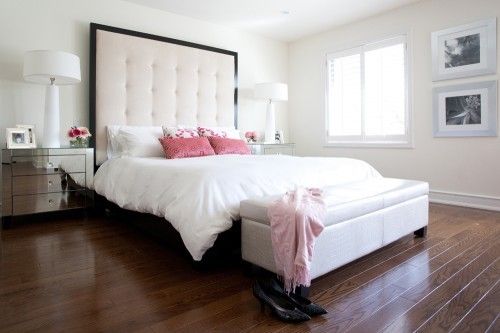 http://nazagreen.com
Redecorating your bedroom with the help of an expert can be extremely expensive and time-consuming. Luckily, there are dozens of tips you can use to redecorate your bedroom with a fresh look without the expense of an interior designer, meaning you don't have to spend a fortune to achieve a luxurious look.
Invest in timeless pieces
Having a fashionable bedroom is similar to having a fashionable wardrobe – you don't have to pay a fortune, but you need to invest in some elementary pieces which are durable and willlook good in 5 years from now.
The central piece of your bedroom is, without a doubt, the bed. In order to achieve that "luxury" effect you will need to invest in a good quality bed and sheets. For a big impact, choose a large king-size or 5ft long bed. Chooseluxurious materials such as leather for your headboard and silk sheetsfor the ultimate in luxurious decadence and style. However, if you can't afford to purchase silk sheets, at least look for those made of organic cotton.
Accessories are the key
If you decide to invest in timeless and expensive pieces of furniture, you don't necessarily need to do the same with your accessories. In fact, your bedroom accessories, such as pillows and curtains, should be versatile enough to be easily changed after a couple of years.
Another on-budget tip to re-invent your bedroom is to invest in new mirrors. Large mirrors will beautifully reflect your bedroom's colors and can add a sense of luxury. However, there are cheaper versions of "invading" your room with reflections without spending fortunes on massive mirrors. Wall stickers are cheap, fun to use and easy to remove and they come in a great variety of shapes and styles, including mirrors. You can use mirror-stickers to replace your dull closet doors, apply them on the ceiling or even above your toilette table to apply your makeup.
Using glass and gold effects
Gold is the ultimate key of opulence, decadence, luxury and style, so you should not be afraid to use it. You can dramatically improve your bedroom's ambiance by adding a gold-framed mirror on the wall or use golden details and prints in accessories such as chandeliers, lamps, curtains, window frames or pillows.
Invest in a chandelier and other glass materials such as boxes, vases or jewelry boxes. Glass is the perfect budget replacement for luxurious finishes and will certainly add class to your overall ensemble.
Decorating with a touch elegance
One of the cheapest ways to dramatically improve the appearance of your bedroom is to put up new wallpaper. There is a variety of styles and designs available but, for the ultimate luxurious effect, opt for those with golden, silver or taupe embroideries. You can also paint your walls in shades of taupe, gray or lavender and then apply golden or silver insertions.
There are countless tips on how to transform older pieces into new and trendy pieces at a fraction of cost. Use specialized "DIY' tricks to recondition your old chairs, sofas, beds and even curtains to look like brand new. Try adding red or purple velvet upon them for a royal feeling.
Like beautiful bedrooms ? Check out Designer Bedrooms from Betta Living