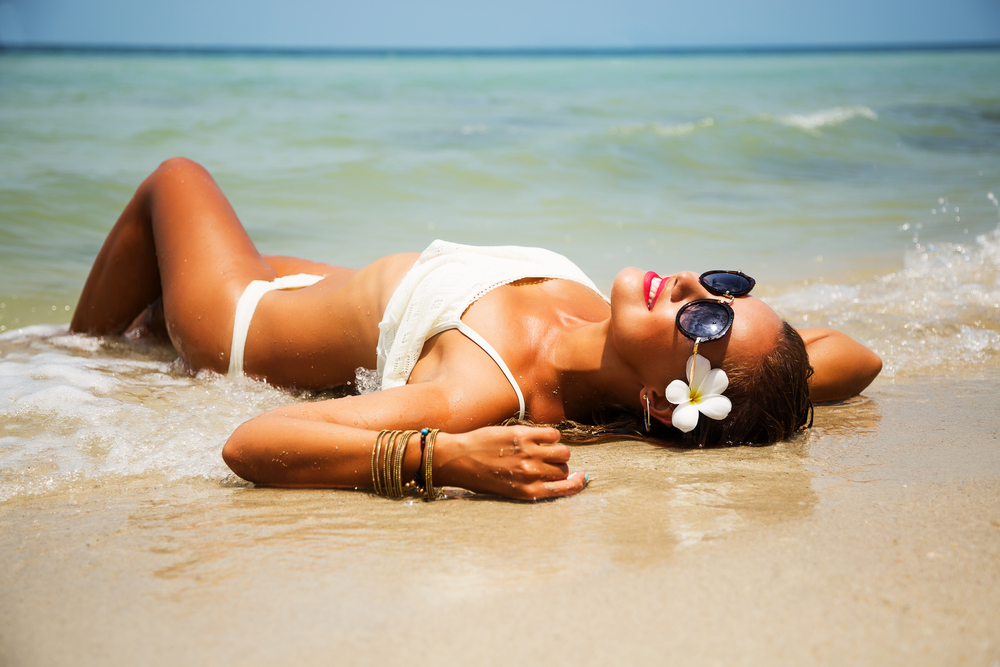 Photos Credit: Shutterstock
Summer is fast approaching, and the fashion is all set to bring you some of the most flattering ways to style yourself! Oftentimes when we plan to buy ourselves a swimsuit, we always look for options that can hide that extra bit of our body. Swimwear is not about hiding our body weight, it should help make you feel confident and good. No matter what your body shape is, you deserve to look your best.
It is possible to make a dramatic difference by picking most suitable swimsuit for your body shape. You can find the sexiest swimsuit for yourself only if you are aware of your body shape, and the great news is that determining one's body shape is quite easy. Since swimwear is revealing, it is essential that you grab something that best fits you. Before we introduce to you some of the premium options available for different body shapes, let us brief some of the tips on how you can go right in finding a swimsuit that matches your body type and can make you look stunning!
Step 1: Identify Your Body Shape
Knowing your correct body shape should never steer you wrong, especially if it's about shopping for clothing. You can determine your body shape by measuring bust, waist, shoulders, and other relevant body areas. These measurements can give you an accurate image of your figure, rather than just looking at the mirror and analyzing. You can always ask for assistance to get the perfect measurement.
Step 2: Check across Various Body Shapes
There are five major types of body shapes: Inverted Triangle, Rectangle, Hour-Glass, Triangle, and Pear-shaped.
Inverted Triangle – Women with this type of body structure tend to have higher measurements for their busts and shoulders than their hips.
Triangle – This shape is opposite of the inverted triangle bodyshape. With this type, the hips are quite larger in size than the bust and shoulders.
Rectangle – Females who have a waistline that is not clearly defined tend to fall under the category of rectangular body shape. Their hips, bust, and shoulders all are approximately the same size, making the entire body look like a rectangle.
Hourglass – If your hips and shoulders are almost of equal size, but your waistline is much smaller than both of them, then you likely have an hourglass shape.
Pear-shaped – If your weight tends to increase in your lower half, particularly around the thighs and hips, then your body is most likely pear-shaped.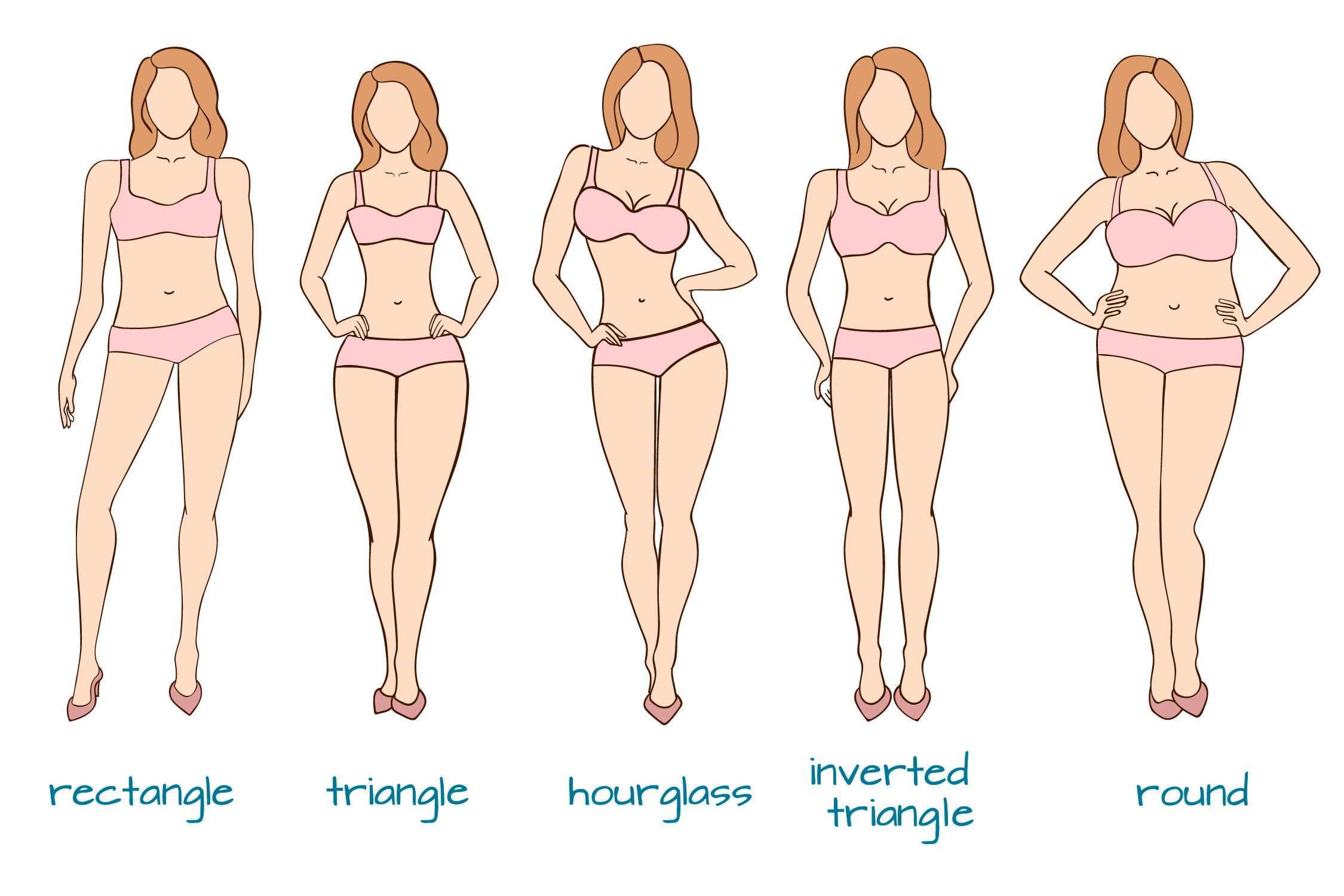 Hourglass Shape
Curvy and feminine, women with an hourglass figure tend to have hips and bust of equal measurement, most often defined with a small waist. It is considered the most precise body shape that offers you with the option to select most amazing swimwear this season. If you are more heavy up top, look for halter-style neckline or swimwear offering additional support to the bust with an underwire. You can show off your sexy curves by wearing bold and bright colors. If you are a more slim hourglass shape, feel free to rock a classic string bikini without experiencing any trouble. Try to avoid mixing and matching different colors on the bottom and top, as it could actually make your body shape appear disproportionate. Stick to swimwear with a single color!
Pear Shape
For a more balanced appearance, you should highlight the upper half of your body. Fine detailing on the top while keeping your bottoms higher and darker tend to deliver an illusion of leaner and longer legs. Play intelligently with patterns and color to deliver a balanced body illusion. Side-panelling details are also an effective way to narrow the look of your silhouette. You can also always cover the additional weight on your lower half with a robe or scarf, as it offers you a demure and sexy appearance.
Inverted Triangle Shape
Since you likely have broader shoulders and a larger chest, you need swimwear that offers you extra support. Check out swimwear with banded necklines around the midriff that can be tied in the back or around the neck, offering adjustments for a comfortable fit. Additional structures in the swimsuit, like a shelf bra, or soft foam cups could also be helpful. Classic tank tops and straight-cut bust styles tend to look clean and charming. Wider shoulder straps, as compared to thin, spaghetti straps, offer maximum comfort. Avoid patterns with bandeau shapes and high necklines, as they can make you appear even broader. Supplementing your bottoms with sporty accents like belts, ties and other detailing will deliver a balanced appearance.
Rectangle Shape
Rectangular body shapes are characterized by broad, strong shoulders and proportional hips. There tends to be a lack of a well-defined waistline. Those with this body type should look for options that can add curves to your structure. Look for swimwear that can add volume and draw focus to your bust and hips.
The finest and simplest way is to look for one-piece attire that can add details to your waistline. One-piece or monokini suits that can be belted around the waist help to create more curves. Patterns and girly details are a great accompaniment as well, so go for crochet details and floral patterns.
Triangle Shape
Females with triangular body shapes tend to carry more weight on the lower half of their body. Their bottom body measurements are typically much larger than the measurement of their bust. With a small to medium sized waist, swimsuits with boy short bottoms can make look you even sexier. If you have a flat tummy, definitely focus on accentuating your abs. Play with patterns and colors to balance your body visually. Remember that busy patterns always draw attention, while solid, dark colors reduce attention.Try a patterned top with a dark toned bottom for a wonderful look.
Athletic Body Shape
Athletic bodies typically have very little waistline and slim, yet strong hips and broad shoulders. Your body structure lacks a defined waist, so try wearing a single-piece suit with high thigh cut. A swimsuit with a belted waistline can help to deliver the appearance of a nipped waist. A curvy seam on each side of the body will also support and add balance.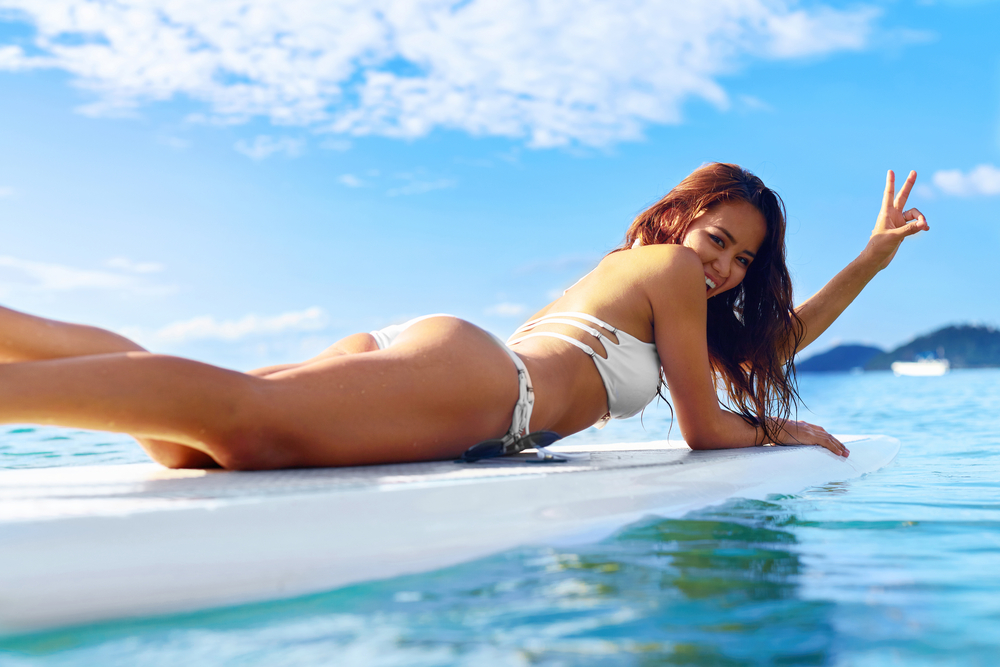 Large-Chested Shape
Since your top is much bigger than your bottom, you can conveniently rely on mix and match pieces with strategically patterned embellishments. Shop for swimsuits with structure so that you are comfortable and do not have to worry about a wardrobe malfunction. Also, check for fine details like slimming and supportive patterns that minimize your bust, thereby creating a flattering difference between hips and chest.
Small-Busted Shape
Women with small-busted body shapes should always hunt for swimwear that will elongate their petite frame. Swimwear with interesting patterns are a great way to add volume to the body shape. Bottoms starting from high on the waistline deliver the appearance of elongated and lean legs.
Plus-Sized Shape
Even if you are plus-sized, you can still have a swimsuit that makes you look and feel sexy. A wide-strapped suit with a comfortable top and coverage for your backside is the way to go. To complement your body shape, you can usually rock a one-piece that offers both a solid pattern and pretty details.