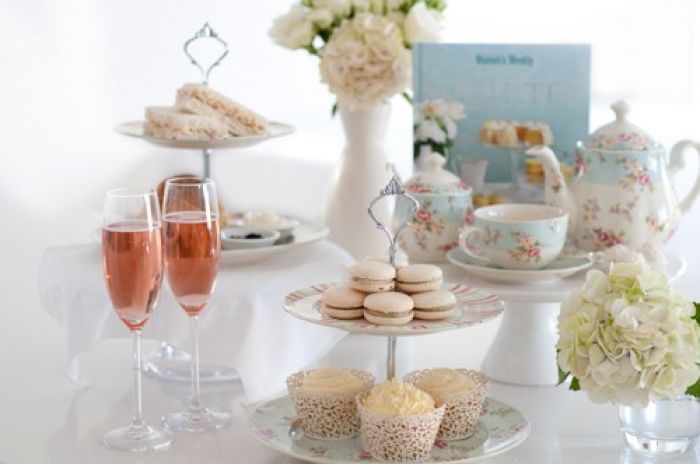 Few parties boast the perfect marriage of elegance and merriment that high
tea
will always evoke. Tea parties can be a wonderful afternoon affair for special occasions or just for socializing, and planning one can be just as fun. Before you even think of putting on the water, consider the details that will take your party from standard to exquisite.
Setting The Scene

The table spread is quintessential for high tea. Bring out the fine linens for a crisp base and polish the silver to glowing. These simple details will make all the difference. While it is not essential that every piece of china match, a matching tea service does have a composed charm. Crockery hire is an excellent option if you find yourself sort a few cups or just wanting something different.

Flowers are a must, but floral arrangements have a peculiar ability to affect the ambiance. Bouquets of heavy-headed peonies and sweet peas that look fresh from the garden have a graceful but less formal feel than a carefully composed arrangement of lilies. Consider the mood you want to convey when you choose your arrangements.

Choosing Your Menu
Sweets and scones form the basis of a classic high tea spread, but it does not have to stop there. A selection of sausages and bite-sized meat pies will bring a welcome salty-savory break from the sugar. You can further intrigue your guests by bringing in a dish they may have never tried before. While you should always include familiar favorites, something new is exciting and makes for great conversation.
The secret to making a tea spread look extraordinary is to have a centerpiece dessert. A specialty cake is always a sound choice, but an arrangement of extravagant cupcakes on a stand, a tower of truffles or even a tray of decadent caramel-covered apples will do the trick. If you do not want to be caught decorating cupcakes when you guests arrive, do not be afraid to employ a catering service. Catering will lift the worry of food preparation off of your shoulders and give you more time to focus on the little details. You can also visit a
high tea
website to get some ideas about what you can make and how you can arrange your table. 
And, Of Course, The Tea

Have a variety of teas for your guests to enjoy. Along with a traditional black, consider an herbal or fruit tea as well. Red and white teas make for interesting sipping, or you could also make an occasion out of sampling different flavors from the same family of tea. For the best flavor, loose tea is always preferable to tea bags.

Consider Something New

A break from the classic high tea fair is welcome every now and again. An Asian-inspired high tea could include green tea, rice flour dumpling desserts, rice balls and sushi. Add origami to the table arrangement for a finishing touch. Offer a coconut-flavored tea, mango scones and hibiscus flower arrangements for a Caribbean tea party. While a theme is not necessary, an out-of-the-ordinary theme to make your party especially memorable.

Remember that above all things, the key to hosting a successful high tea is to be a gracious hostess. While details are wonderful, never make the occasion too complicated. The calmer you are, the more fun you and your guests will have. With a few fine details and warm conversation, your high tea will be a success.