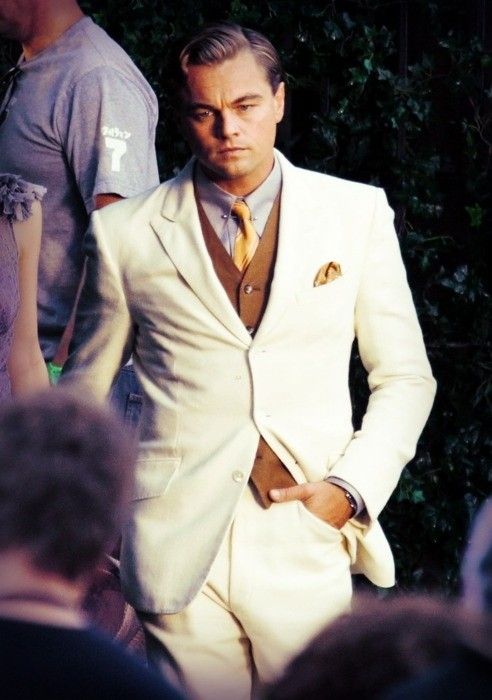 google
Those blue eyes, blonde hair, natural talent, and now become something of a meme for not having any Academy Award. Yes, we are talking about Leonardo DiCaprio. Leo is a household name of the Hollywood, who is in the acting business since he was a preteen. He made his debut in thriller movie Critters 3 as a little guy Josh. His most notified roles include Romeo Montague (Romeo + Juliet), Jack Dawson (Titanic), Dom Cobb (Inception), Jay Gatsby (The Great Gatsby), and recently Jordan Belfort in The Wolf of wall street. Leo has directed some brilliant films too, and a strong contender for the richest actor of Hollywood from half of the decade. DiCaprio has the great social following; he is capturing his audience not only through his brilliant acting, but also for his clothing sense and updated style. Because of his all listed aptitude we are going to discuss the different levels for stealing his looks. Here we start.
On Screen Look:
Definitely Leonardo DiCaprio is a style salute when it comes to his on screen looks. He's grown up in the front of camera while wearing a variety of suits and tuxedos; actually he does know exactly how to rock any suit. From his gentle tuxedo in Titanic to his cheesy suits in The Wolf of Wall Street, and 90's vintage style double breasted suit, Leo has the ability to make every suit looks good. Even the Oscar wining costume designer Catherine Martin for the Great Gatsby said in his interview that "Leo's a fantastically professional young man. If you want to match your looks with Leo and create the similar appearance with the star icon, than the easier and probably the best way is the go with his latest formal attire. He has worn many flawless suits in his two recent blockbusters Great Gatsby, and Wolf of Wall street, including his slick black tuxedo, classy pinstripe suit, flawless cream suit, and a super hot pink suit. We have the complete collection of Leonardo Dicaprio movie replicas which will undeniably provide the looks you are seeking for.
Casual Outfits:
Leo looks classy in almost any suit, but he is not behind when you talk about his semi formal dressings. He knows how to dress, the value of the pattern, and he just loves to mix things up! DiCaprio doesn't look less stylish at the red carpet, Cannes, and premiers. He is not panic and has the great confidence when trying different colors, trends when the occasion calls for it. Undeniably, all celebrities can get their hands for trendiest or flattering style easily than the average man, but Leo is usually seen dressed in done of casual T shirt and pants which any ordinary man can afford to buy. As we all knows Leonardo DiCaprio is one of the biggest sports fan in Hollywood, he spotted plenty of times sitting side by side in a basketball game with other Hollywood superstars. He still looks dapper in his either wearing classy patter shirt, simple V shaped t shirt, and jacket with his several of the hats.
Hair Style:
There's another style for which Leo is famous for. How can you forget his evergreen hair style while discussing about stealing his style. He is best when trying different things with his mop of dirty blonde hairs. We have seen him with different hair style, including long hairs, straight hair looks, roaring hair style. His most famous hair cut is we all know Titanic one, where he performed the role of teenager Jack Dawson. To steal his bit of titanic hair style first you need to keep your hairs close along neckline, and left them bit longer from the sides with slightly layering at front that suit your face but, and then finally brush your hairs back from your forehead. With his latest grand adaptation of F. Scott Fitzgerald novel The Great Gatsby Leo brought back roaring twenties hair style while performing the leading role of Jay Gatsby in the movie. 1920's hairstyle includes in some of today's popular men's haircut. If you have natural wave in your hairs then you only need to just wash it and ruffle loosely with a finger, it is better to leave sides and back hairs long and keep it shorter to your ears to make room and fall back the rest of the hairs. But impotently If you have straight hairs than use brush instead of your finger and use it loosely from fringe towards the crown for a touch of a curl.
Accessories:
There is not much things to remember regarding his accessories, Leo uses few, but make sure to use it efficiently. You wouldn't see him mostly without his hats. Leo is a big fan of a hat and you would rarely see his pretty little head without a fedora or a basket ball hat along with his casual outfits He wore out many elegant watches both with his formal and semi formal dress up, but now he is starred with Tag Heuer watches most of the time in these days
We have defined all things briefly for which US actor Leonardo DiCaprio is famous for. If you are his true fan and passionate in adopting his style than go through with our guide wouldn't be a bad option, it will definitely help you out for which you are aiming for.
google
Leonardo Dicaprio Style
google
Leonardo Dicaprio Style
google
Leonardo Dicaprio Style