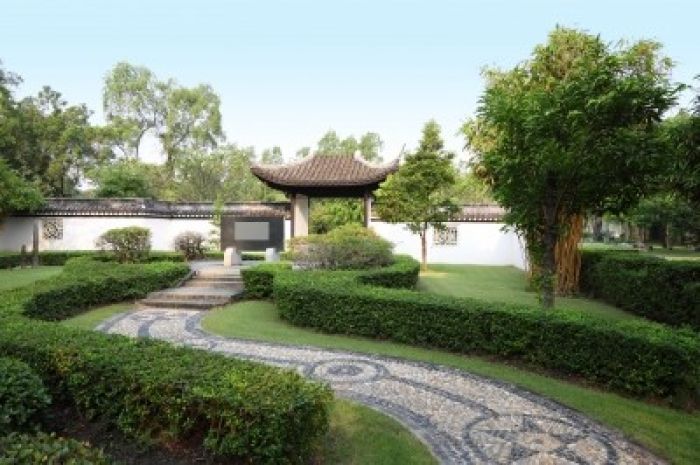 While many home and garden magazines showcase sizeable and elaborately landscaped gardens, many of the design techniques can be implemented into smaller gardens as well. By incorporating the concepts of color, seasonal appeal, focal points and variety of heights and textures, even a small garden spot can be transformed into a captivating oasis in which to wile away stolen moments of relaxation.
Begin by choosing one or two focal points. These are larger points of visual interest that draw the eye to the garden, inviting further exploration of the smaller elements. An ornamental tree such as a Japanese red maple, dogwood or cherry tree is a perfect example, offering showy blooms or foliage for an overhead cloud of color. Alternately, a garden arch brought to life with a climbing cover of blooming wisteria or variegated English ivy provides another option. You may wish to create a short walkway toward the focal point, accenting with stepping stones set in a gravel path. For a secondary, smaller focal point, consider a piece of statuary or a birdbath. 
When choosing a color theme for your garden, opt for one focal color. Too many hues will make the garden appear smaller. If pink is the preferred choice, indulge in several shades of the color from pale ballet pink to bright fuchsia, with occasional pops of white for contrast.
Design the planting area into three height zones. Larger perennial shrubs or flowering bushes will frame the rear portion of the garden, flanking each side of the main focal point. Medium height perennials will be arranged throughout the middle section. Hydrangeas and dahlias provide colorful blooms all summer. Lavender will be both attractive and soothingly aromatic. Extend the floral season by incorporating a couple of fall bloomers such as sedum and coreopsis. Do not discount foliage plants that offer unusually shaped and colorful leaves such as hostas, coral bells and autumn ferns. Evergreens will offer year around greenery during the drab, grey winter months. Finally, low growing annuals will frame the front zone and fill in between other plants. These zones will provide height and depth, creating the illusion of more garden space. 
Always remember to choose the appropriate plants for your growing zone and be mindful of how much sun the plant requires. Shade loving flowers include impatiens and begonias, as well as the striking foliage of coleus and dusty miller. A combination of foliage and flowers displays a rich tapestry of varying textures as well as color.
Outdoor seating furniture will beckon down time spent in the garden with a relaxing read, a friendly chat or a refreshing beverage. A pair of Adirondack chairs with colorful outdoor pillows placed under the shade of a red maple tree is always inviting. If a garden arch serves as your main focal point, position a bench under the archway. Install solar lighting along the walkway or a garden spotlight to illuminate the focal point when the sun goes down.
As the summer sun fades, swap out the annual flowers for autumnal plants of interest such as mums and ornamental cabbage. During the winter months, evergreens and ivy will continue to enliven the space. Attract winter birds by turning the birdbath into an open feeder. A garden flag can also lend seasonal appeal as the flag is switched out periodically to reflect the seasons and holidays.
These ideas, combined with your personal touch of creativity, will enable the splendor of your small garden space to stand out. The result will be a beautiful garden retreat where family members and visiting friends will be drawn for seasons to come.