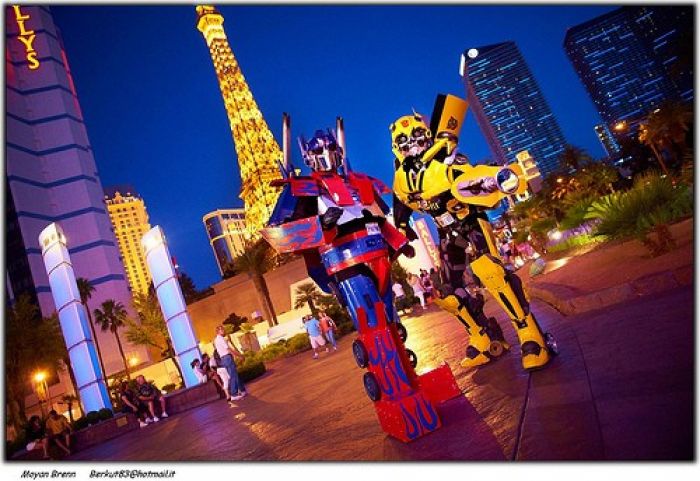 Moyan_Brenn
When you say the words "family vacation destinations," Las Vegas probably doesn't come to mind. Vegas is famous for late nights, loud revelers and lots and lots of gambling, not exactly family-friendly pursuits. But if you can manage to stay out of the casinos, you can actually find a lot of family-friendly pursuits in Vegas. In fact, you may just decide that it's more fun to golf with your children than gamble the night away, and you can do it in luxurious style at these great destinations.
Go to a Show
Broadway's got nothing on Las Vegas in terms of upscale family entertainment. There are dozens of high-class shows that will appeal to your kids that are also affordable no matter what your budget, whether you work in lake management in VA or plumbing in PA.
Some of those shows include Cirque du Soleil, Blue Man Group or Penn & Teller. Cirque du Soleil is especially exciting for kids. The troupe's highly skilled acrobats and other performers accomplish feats that most circus folk can only dream of, and the music and lighting take the show to an entirely new level.
Learn Something New
Yes, it's possible to learn something in Las Vegas. Your first stop should be the Las Vegas Springs Preserve, which shows you an entirely different side of the city. Located three miles from downtown, the preserve was built around Vegas's original water source. Its attractions include a desert botanical garden, museum gallery and a beautiful wetland habitat.
Another great destination is the Lied Discovery Children's Museum, a hands-on attraction that encourages kids to test simple machines and water flow displays. The centerpiece is a green village where kids can learn about environmentally friendly choices for their own communities.
Experience Nature
If you have access to a car, the Red Rock Canyon is a terrific location to go hiking with the family. You can experience the fauna and sandstone cliffs of the Southwest. Plus, it's always great to get outside during a vacation, although the sizzling temperatures make this destination better suited for winter months.
Mandalay Bay also has an amazing exhibit called the Shark Reef Aquarium, where families can tour shark tunnels as the animals swim around them. There are also touch tanks and a komodo dragon exhibit.
The Las Vegas Zoo, a 3-acre park about 15 minutes from downtown, has more than 150 species of plants and animals. It's the only year-round zoo in Nevada, and it offers a fun scavenger hunt kids can do while they look at the animals. Visit the zoo's web site to find a coupon for a discounted admission for children with the purchase of an adult ticket, a great way to save money on your family's vacation.