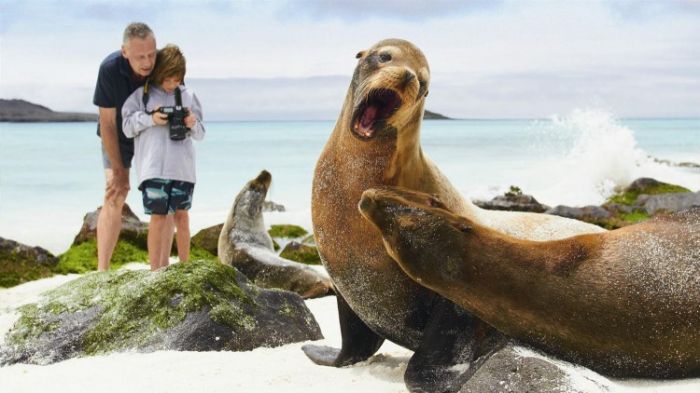 Lindblad Expeditions
Families don't just get together for the holidays anymore. These days multi-generational travel has become more popular as grandparents want to spend more time with their grand children. More and more, family travel includes three generations. Plus, often families are spread across the country and what better way to get the children and grandchildren together on a vacation everyone can enjoy.
Coordinating multiple families' needs, wants and expectations may sound over-whelming. However, planning multi-generational travel doesn't have to be tricky when you follow these guidelines.
Step One – Plan Early
When planning everyone's vacation, it's best to start at least a year in advance. While the grandparents may be flexible, mom and dad have to schedule vacation time at work, and figure out school vacations, soccer practice and dance lessons for the children. Also, consider getting everyone involved, including the young ones. Have everyone make a top 10 dream destination list and narrow down the choices based on places everyone wants to see.
Step Two – Talk to a Travel Advisor
Not only can a travel advisor secure group rates at your destination, she can handle everyone's special requests. A group family vacation is supposed to be enjoyable, even in the planning process. Let the travel advisor work out the small details such as ensuring which room will have a crib, special dietary requests, etc. Your experienced travel advisor can be the lead contact for everyone in the family and has a wealth of knowledge to handle everyone's questions. In addition, the right travel advisor can arrange private tours, get you to front of the line access and other benefits the average traveler cannot secure on their own. Let a travel advisor take the stress out of planning your trip.
Step Three - Plan for time together… and apart
 Plan activities the whole family will enjoy together and schedule those in advance. That way everyone will know what to expect when. And, when you're planning a grand gathering of multiple generations, be sure to set a comfortable pace when you are all together. Take breaks so grandparents can rest, but plan ahead to keep the grandchildren occupied.
Most importantly, plan free time apart as well. Plan days where individuals or family groups can do their own thing. You can always reconnect and share the day's adventures over dinner. Plus, the older generations are not always used to the energy the little ones expend and may need a break from the activity. Alternatively, the built in babysitters allow mom and dad a special night out together.
Step Four - Be flexible
Managing many vacation expectations may mean you don't always get to do everything you wanted. The important thing is to celebrate being together and create lasting memories. Additionally, sometimes family vacations do not go as planned. The weather may not cooperate, luggage may get lost. When you expect the unexpected (and your travel advisor can help fix the unexpected) you can relax and go with the flow. Have a lot of down time? Share stories with the grandchildren about their parents as kids, or memories of your grandparents. How you handle any travel interruptions may make for the best stories in years to come.
Additional Recommendations
Ready to start planning a multi-generational vacation? We have a few ideas to get you started.
·         Cruising – cruising considers all levels of activity and interests and often has something for everyone. Many cruiselines have engaging kids clubs, an area for teens, and even adult only pools, families can separate during the day and re-connect at dinner or an evening show.
·         Organized Tours – There are many tours that focus on family travel, plus it takes care of all the planning with a built in itinerary. Organized tour companies such as Abercrombie & Kent and Adventures by Disney also offer front of the line access or small group tours, where the entire tour could be just your family.
·         Plan a theme – Take a literary, movie or nature themed vacation the whole family can enjoy. From a trip around New Zealand to discover the Lord of the Rings or hiking the hills of Sound of Music in Austria to interacting with world-renowned National Geographic Explorers in the Galapagos, a theme is sure to get the whole family excited.
If you could take your children and grandchildren anywhere, where would you go?
Casa de Campo
Family Celebrations
Four Seasons Resort Maui
Hawaiian Holiday fun for the whole family
Micato Safaris
Get up close and personal with nature
Adventures by Disney
An organized tour leaves the planning to someone else