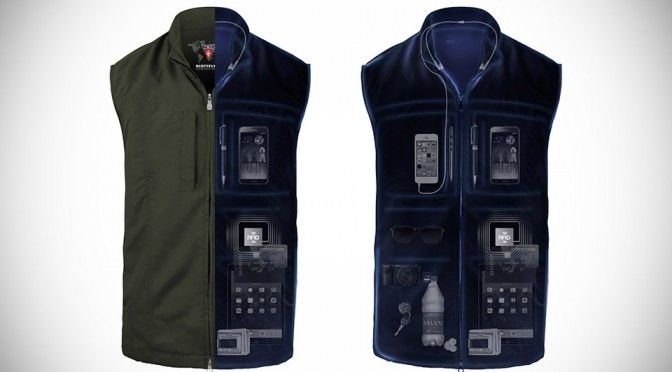 ScotteVest
Your bags are ready, items on your travel check list are all crossed off, and you're thinking: "If I forgot something, I won't miss it."I hate to introduce doubt into your well laid plans but did you consider identity theft? These days it's not just pickpockets or online hackers you have to worry about. Thieves equipped with scanners are lying in wait for your most vulnerable moments.RFID Theft
Radio Frequency Identification(RFID), embedded in all U.S. passports issued after 2006 and now in most credit cards and cell phones, is available to those who want to assume your identity. All it takes is a specialized scanner via wifi to skim your data. You're on a trip of a lifetime yet on a long ride through bureaucratic hell you didn't bargain for canceling your accounts and re-establishing everything that makes you uniquely "You".
SCOTTeVEST RFID Travel Vest To the Rescue
Made with hidden pockets and material impervious to scanners, SCOTTeVEST's new travel vest is made with RFID blocking material and loaded with the following features:
Ergonomic Weight Management System properly balances the weight of pocket contents for added comfort during travelKey Card Protector shields against magnets and cell phones which can easily demagnetize hotel key cards and metro ticketsAn in-garment Personal Area Network (PAN) solves your low battery dilemma. Gadgets of all sorts including Google Glass are easy to recharge in one pocket with a battery pack in another pocket via a connection built into the vest's liningFully transparent Clear Touch pockets allow you to manipulate a touch screen device while still insideCollarConnect™System integrates wires like ear buds into clothing so they don't dangle in plain view.
Coverage made possible by testing a complimentary product