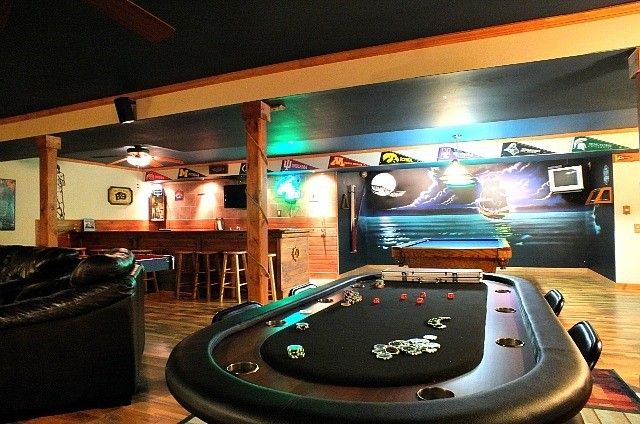 How To Turn Your Basement Into The Ultimate Man Cave
We've all been there; wandering downstairs to the basement to grab some supplies or tools, only to pause for a moment in reflection thinking how amazing the space could be if it was just renovated. Well maybe it's just the right time to reclaim your basement and make it a room full of manly luxury; chock full of entertaining features and refined aesthetic appeal.
Step One: Vision
The first step is coming up with a design plan. What are the defining features you simply must have? The center or theme of the room should compliment your personality and unique sense of style. Below are some design ideas that may spark your interest and set the stage for your ultimate man cave.
The Player's Hideaway
Photo By: Grand Tara Lodge
The Spirit Connoisseur
Photo By: Unknown
The Multimedia King
Photo By: Jeremy Kipnis
The Sports Fan
Photo By: Sherry Nothingam
Step 2: Get it Livable
First things first, getting the basement ready for renovation may take a bit of work, but in the end, doing some of the prep yourself can save your time and serious cash.
Check the Insulation: Your basement is a subterranean space which can make the area cold and damp. Installing high quality insulation will ensure you and your guests are comfortable in your man cave. Consider insulating the ceiling, this will not only help keep the room temperate, it will also help reduce noise transmission to your upstairs space. Building materials: Because basements are a humid place, drywall and wood studs can grow mold within your walls. This can lead to an unpleasant smell and can eventually lead to respiratory problems. Using inorganic building materials and a dehumidifier that works in conjunction with your home HVAC system will significantly reduce humidity. Run HVAC Systems: By installing ductwork which ties into your home's existing systems, you can have heat an air conditioning in your basement man cave. Plumbing: If you would like to install a sink in your bar, or a bathroom, the simplest way is to install these items below existing plumbing within your home. For example, if your man cave bathroom is installed directly below your upstairs bathroom, running plumbing lines will be much simpler than if starting from scratch.
Step 3: Decide on Lighting
Lighting provides ambiance. Choosing the right light fixtures can transform the look of a room. Track lighting or spot lighting works great for man caves centered around poker and pool; to make this type of lighting interchangeable, install dimmer switches. Fixtures placed around the cave for aesthetic appeal should match with your specific styling. For example, if you are going with deep, rich wood furniture, try to stick with more traditional fixtures.
Step 4: Set the Layout
Now comes the fun part. Determine the space you have to work with and choose your furniture and features accordingly. Items can include flat screen TVs with surround sound audio, automatic reclining theater chairs, wet bar with beer taps, poker or pool table, pinball machines – you name it. When designing the layout of your man cave you are only limited by your imagination, so let it run wild.
Step 5: Decorate
It's finally time to set up your cave and add the finishing touches. Remember, this is your area; make it look that way. Your man cave should exude your style; making it a comfortable area for your to relax and let loose with the boys.
Tips & Tricks
Where possible, run wiring for multimedia through walls; this will provide your cave with a crisp, clean look. When setting up your bar, choose a finish that is durable enough to resist scratching and wear to promote long lasting beauty. Measure wall space and floor space before digging in on decorating; this will prevent you from cluttering the space. DIY as much as possible to save and add personal appeal; many projects such as custom built shelving, fixture installation, and repurposing and restoring old furniture can be completed easily and affordably.
James Finlayson has been a DIY enthusiast since childhood and has been luckyenough to make his passion his work. He now works for Ableskills, an independentconstruction training college in Kent, organising their carpentry courses 
Unknown
Basement Bar
Jeremy Kipnis
Techy Man Cave
Sherry Nothingam
Sporty Man Cave