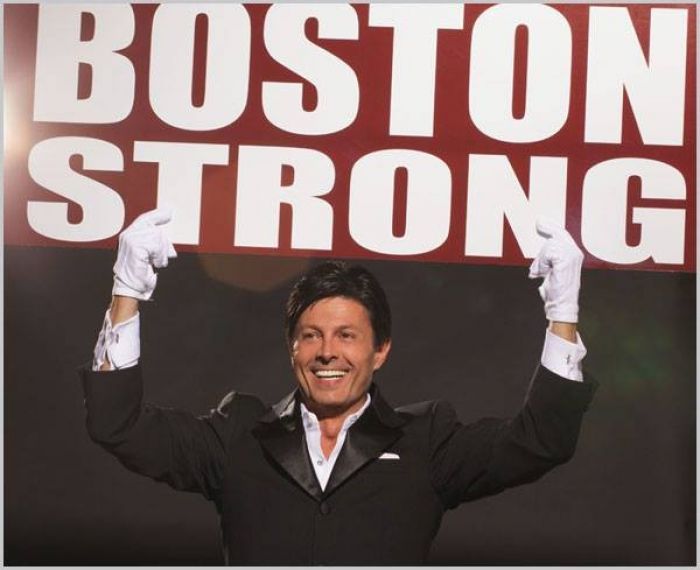 Photos Courtesy of Ivan Amodei
World-renowned Illusionist Ivan Amodei will be visiting Boston for just two nights to perform the 90-minute "Intimate Illusions" show at the Boston Park Plaza Hotel & Towers from November 29-30.
Recently, Amodei appeared on The Arsenio Hall Show (yes, it's back!) and also celebrated his 400th show and third anniversary headlining at the Beverly Wilshire Hotel on Rodeo Drive in Beverly Hills, California. Celebrity fans include Steven Spielberg, Jim Carrey, Dick Clark, Nicholas Cage and Ashton Kutcher.
"I was inspired by theme magic at a young age and knew I always wanted to do it and magic would be an important part of my life," said Amodei. "In high school, I actually wanted to be an orthopedic surgeon. I broke my foot and had surgery on it and thought it would be a fascinating career, but the truth was that I didn't think I was as bright as the other kids who were interested in it so I changed my plans and got a degree in marketing. I waited tables throughout college and did some magic while I was waiting tables, so I would receive tips on food and tips on the magic."
"My performance is different than the stereotypical magic show. You won't see a woman in a box disappearing or a woman being cut in half," noted Amodei. "It's more about psychological illusions with some visual stuff and lots of audience interaction. All of the illusions are original but they each have a story line that ties back to humanity. For example, I ask the question, do you believe that fear can hold you back or do you believe you hold your fate in your own hands? After asking the question, I see if I can demonstrate it."
While Amodei performs, live music is provided by Celine Dion's cellist and a portion of the proceeds from his Boston shows will be donated to The One Fund to help the Boston Marathon bombing victims and their families.
Ivan Amodei
Ivan Amodei
Ivan Amodei
Ivan Amodei