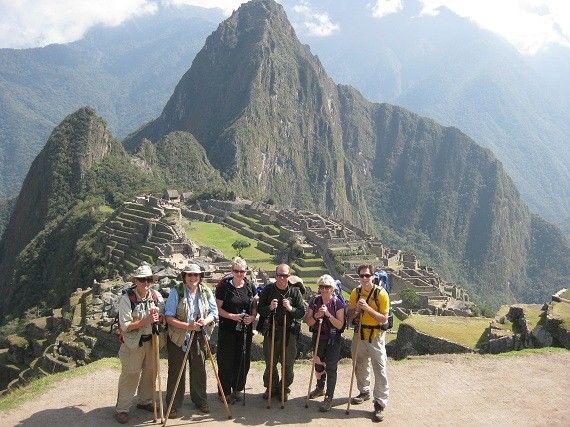 Froilan
Cusco is a glorious city!  Orate cathedrals and churches everywhere, charming town squares, grand fountains, lovely small restaurants with balconies .. and views of mountains stretching out to the horizon.     Our excursion to Machu Picchu started in this beautiful town at the posh and resplendent Costa Del Sol Picoagahotel. The first day was just hanging out and seeing the sites, such as the famous twelve cornered stone in one of the original Incan walls. Mostly we acclimatized to the altitude by walking around all day-- the city is at 12,000 feet! Our group in included me, Karen, old neighbors Gene and Betsy who had relocated to Colorado, Carolyn (Karen's college buddy and a frequent traveling companion) and hang gliding comrade Brian.  
To further acclimatize we spent the second day touring the Sacred Valley-- lots of llamas and lots of terraced Incan ruins-- meaning lots of schlepping up and down the high altitude terraces.. and lots of stopping and sucking wind--- low oxygen wind.  It was all part of a well-established plan for tourists about to tackle the Inca Trail, which is what we did starting the morning of day three.   We loaded up our backpacks, stored our luggage at the hotel, and began the hike-- the six or us, five porters, cook/porter Raul and guide Fraolin. Yep, seven Peruvians to take care of the six of us. One of our porters was the designated wine carrier!  We travel in STYLE! We all carried light packs of less than 15lbs with a change of clothes, snacks. water and toiletries... except Brain. He decided to be a MAN and carry a 25lb pack. Of course, you can always go without a pack by adding even more porters. But you just look like a total dweeb on the trail without a backpack-- even if it's not a manly one like Brian's.
The hike starts much lower than Cusco at 2800 meters (9200 feet) with a crossing of the Vilcanota River and then up a gentle incline that follows the river. This first section of trail passed several small villages. The local residents would be leading their burros and horses along the path, often guiding several unbridled horses by walking behind them and shaking a coke can with a rock in it. A multitude of flowers hung from trees on either side of the pathway up to an view of the Inca fort Huillca Raccay and then onto a cliff looking down upon the Incan City of Patallacta. An otherwise friendly burro tried to nudge Carolyn off the cliff at the overlook for the ruin. After a descent, the trail climbed up to 3000 meters (9900') through forested landscape to the first campsite. Our porters gave us a round of applause as we approached. We lucked out and had our own little campsite tucked away next to a babbling brook with a private outhouse.  We arrived to the smell of fresh popcorn. In addition to breakfast, lunch and dinner, we enjoyed a popcorn snack with coca tea each day.  We ate better on the trail than we ever do at home-- fresh fruits and vegetables, great soups, fantastic desserts.. and wine, of course, at dinner. Each morning after breakfast, we'd depart. Then the porters would break down the tents, hike past us, set up for lunch and repeat the process, waiting at the campsite for us with the dining tent and our tents already assembled. 
On the second trekking morning, we awoke to a breakfast of Birthday Cakes-- it was both Karen's and Betsy's Birthdays. Raul had baked two cakes in a Dutch oven and decorated them for the birthday girls. This second day was the hardest featuring a climb up to over 4200 meters (14,000 feet). There's a lot of talk about the trail being overcrowded. However, the number of permits is limited to 500 persons per day-- that includes guides and porters. We kept seeing the same faces during the four-day hike and struck up conversations with our fellow adventurers. On many occasions, their group was one or two short due to a someone being sick or injured. So I estimate that there were less than 400 people on the trail--- and they were spread out over several miles. Often, our group had the trail and the sites to ourselves! We moved through the cover of the forest and up to high grassy plains where we stopped for lunch.  Gene and Betsy, ten years older than the rest of us, were having a little trouble and lagging behind. They were decked out in khaki and sand colored vests and hats, as though they were on a safari.. Froilan stayed back to help motivate them along. At the lunch spot as we waited for our friends from Colorado, Karen started to feel a little queasy and decided against eating. A stomach bug from drinking some water in Cusco seemed the most likely culprit. As we set out to reach the summit, known as Dead Woman's Pass, Karen too struggled on the most difficult day of trekking. Still, everyone made it. The pass is usually ensconced in the clouds. But our group's slow pace paid off as the clouds parted and we enjoyed a spectacular view of the mountainous journey we had taken.
The trail descended sharply down in what seemed an endless series of Incan Stairs. Going up had been easy by comparison. It hadn't take long to establish a pattern on the trail. Brian and I bounded uphill together, while Karen and Carolyn ambled slightly behind us. On descending stretches, I teamed up with Carolyn.  Karen and Brian, both with bad knees, became downhill buddies-- Karen wearing her bright pink knee brace. And Gene and Betsy kept together at their, let's say leisurely, pace both up and downhill. After 2700' of going down, down, down we arrived at the campground on a bluff overlooking a cloud-covered fertile valley. Karen popped a couple of antibiotics at dinner and after a night's rest she was back to her radiant demeanor.
Trail day three began with a short trek to the ruins of Pacaymayu, a semi-circular stone fort with inner and outer rings. This was a teaser for the next Incan structure along the trek. We gradually ascended back up to 13,000 feet and then down to the massive multistoried complex called Sayacmarca It, like may of the Incan structures, was built into the side of the mountain.  The stone fortress included numerous slanted walls, staircases upon staircases and trapezoidal windows that had proven to be resistant to earthquakes. An added bonus was that it overlooked another ruins-- Conchamarka. The ever-charming Froilan guided us thorough the ruins for about a half an hour before we continued along the trail to the lunch spot. After another fantastic meal, we enjoyed an easy section of trail passing beautiful waterfalls and amazing vistas of deep, verdant ravines punctuated by the towering forested peaks of the Andean Mountains. These were the best and most breathtaking views of the trip. The ingenuity of the cobblestone-like Incan Trail was evidenced by the inclusion of a natural tunnel and retaining walls of over sixty feet high. We arrived at our last section of flat trail of the day, overlooking the cloud city of Phuyupatamarca, a multi-tiered rectangular encampment. From here it was all downhill, steep downhill on steep steps, to camp nearly 3000 feet below in elevation. With less than two hours to sunset, Carolyn and I decided to abandon the group and hightail it to camp. We zoomed past other trekking groups like they were standing still and covered over three miles in less than an hour. Camp was set up adjacent an abandoned lodge and restaurant. However, there were working toilets and running water. Each of us cleaned up,-- I shaved with hot water--- ahhhh! And then we explored the nearby ruins, of Wi?aywayna. These were the most spectacular ruins so far. The Incans sure liked to build terraces. On a shear mountain face they carved out a cascading series of ledges for farming that included a small assemblage of buildings topped with peaked roofs. As Carolyn noted, what farmer in his right mind would look at the side of this jagged mountain and "Yep, this is good place for a farm."
Carolyn and I returned to camp and watched the sunset over the town of Aguas Caliente below. As darkness cloaked in, I began to worry about our compatriots. Karen and Brian arrived wearing their headlamps fifteen minutes later.  Gene, Betsy and Froilan followed twenty minutes later. I uncorked a bottle of wine!
The final day began at 4:30am. After breakfast, we formed a queue with the other trekking companies to wait for passport control to open at 6:00am. Oddly enough, there's a passport office at the trailhead for the last section of the journey - only two and a half miles to Machu Picchu. Brilliant wildflowers lined the trail as we descended from high mountain forest into the jungle. Machu Picchu is at the lowest point on the trek-- less than 8000' and in a more sultry climatic zone. Before reaching our destination, we first had to surmount the Gringo Killers-- a severely steep flight of fifty large stone steps. Brian and I, as usual, went first. It didn't seem a big deal to me. So I bounced back down the stairs and ran into two comical guides, with whom we had crossed paths several times. They told me that I was going the wrong way. I mentioned that I was returning to help my friends by carrying their packs up the steps. In unison, the two handed me their packs. No, I explained, I meant my wife and my friend Betsy. I grabbed Karen's pack and vaulted back up the stairs. On my second trip down the two guides were still there goofing off. Fine, I conceded, I'll take your packs. As I reached for the backpacks, the two shrugged away somewhat embarrassed. I unburdened Betsy and made my final trip up-- score Matthew three, Gringo Killers zero!
At Intipunka, the Sun Gate, Machu Picchu came into view-- eventually.  The famed archeological site remained stubbornly obscured by cloud cover. Several other groups were already at the gate waiting for the skies to clear. They gave up and continued on as Karen, Brian, Carolyn and I waited for Gene and Betsy.  Our friends finally arrived, and as they caught their breath, the clouds parted and the beautiful mountain citadel appeared out of the mist. The regal pace, as we were now calling it, paid off again.   We sat in awe of Machu Picchu.
A short hike down the broadest and best paved section of the Inca Trail brought our group into the upper, grassy terraces of the ruins. Froilan sat us all down and presented an overview of the site. Discovered by Hiram Bingham in 1911, the jungle covered mountaintop city was actually home to a couple of farmers when Bingham arrived there. Our half-day tour included the famous temple of the sun where sunlight passing through the Sun Gate on the winter solstice shines a beam of light through one of the windows of the temple. The beam forms a triangular shadow where an eye is carved into the floor. We visited the Royal Tomb with its three carved steps representing the symbolic Incan gods, -- the snake, jaguar and the condor. We climbed up and down numerous terraces and into and out of a wide array of temples, living quarters and chambers. The polished stonework, architecture and engineering is truly amazing-- mind-boggling really! One of the great moments during the tour was when we were getting a group picture, with Froilan snapping away using all of our cameras. A young, well-dressed Japanese woman asked if Froilan would take her picture. He agreed and then the woman hugged Gene and Betsy, clad in their safari outfits, into the photo with her. I think the photo might end up in some Japanese fashion magazine.  Another funny moment was when Froilan pointed out Happy Mountain, one of the peaks across the valley. We asked about the interesting name of the mountain. He said, "you look at it and it makes you happy". So we ended the tour on a happy note.
We returned to Cusco via a bus ride down the serpentine Hiram Bingham Highway-- really a dirt road barely wide enough for one bus, and then a three-hour luxury train ride. We stopped in the town of Aguas Calientes between the bus and train for a late lunch-- one last time to hang out with Froilan and toast our excellent adventure. The train chugged along through stunning landscapes following theVilcanotaRver. And our steward and stewardess put on a fashion show, with the steward doing a perfect Zoolander. Back at the hotel, the hot shower never felt so good.  We had talked about getting together for dinner. Everyone, however conked out after cleaning up. Karen and I crawled into the sumptuous bed in our suite... and a had a long and glorious night's sleep.
For more info on tours visit www.latikaperutravel.com.
Hotel in Cusco --http://www.costadelsolperu.com/peru/hotels/cusco
Getting There-- Spirit Airlines offers convenient flights from the US to Lima-- travel in style in their Big Seats at only a fraction of the cost of a conventional Business Class Ticket-- http://www.spirit.com.
Karen Carra
Cusco
Karen Carra
Pet Llama on Sacred Valley Tour
Froilan
Start of Trek
Karen Carra
Ruins at Patallacta
Karen Carra
Cook and Porters
Karen Carra
Karen's Birthday Cake
Karen Carra
Inca Steps
Karen Carra
Froilan on Gringo Killers
Karen Carra
Gene at Summit of Dead Woman's Pass